Advertiser Staff
Kristalynn Ontai drove a penalty kick off a diving goalkeeper's fingers into the right corner in the 68th minute to give Kamehameha a 1-1 tie with Punahou yesterday, and make the Interscholastic League of Honolulu girls soccer race even tighter.
The outcome left both Punahou (8-0-2) and Kamehameha (6-0-4) unbeaten.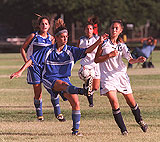 Punahou's Adria Campbell kicks into action while being guarded by Kamehameha's Randie Hanohano. The teams played to a tie yesterday at Kapi'olani Park. Both teams remain unbeaten.

Gregory Yamamoto • The Honolulu Advertiser

Once-beaten 'Iolani also is in the hunt for the ILH title. Iolani (7-1-2) plays its final two league games against Kamehameha at home at 1:30 p.m. tomorrow and at Punahou at 4:15 p.m. on Tuesday.

Two wins and the Raiders at least tie Punahou for first place, forcing a championship playoff next Thursday.

Punahou can clinch a tie by beating St. Francis (2-8) tomorrow at Punahou. Kamehameha's chances of defending its ILH title are more difficult, requiring at least a St. Francis tie with Punahou tomorrow.

The Warriors' chances of getting a tie with Punahou yesterday looked bleak until Kamehameha's Lehua Wood was taken down in the penalty area and a hard charge was called.

Ontai, a co-captain, took the penalty kick. Although Punahou goalkeeper Allison Lipsher correctly sensed where Ontai's left-footed kick was going, she couldn't quite get her hand on it. "I've never made a more important kick," Ontai said.

Punahou had dominated the first half, scoring 17 minutes into the game on Megan Abbott's spinner from about 25 yards directly in front of the goal. Charlene Lui collected the ball and dropped it to Abbott, who placed it neatly just over the hands of leaping Warrior goalkeeper Noelani Kamelamela.

"I'm so proud of our girls for turning this thing around," Kamehameha coach Michele Nagamine said. "It's tough to come back when you get down to a team so good as Punahou."

Punahou had one good shot at retaking the lead. In the 58th minute, Kamelamela blocked a shot and Lui, just outside the box, headed the rebound about six inches over the goal.

Punahou took most of its 19 shots in the first half. "We woke up after about 25 minutes and the momentum changed," Nagamine said. "That's been typical of our very young team (five freshmen and sophomores start)."

Punahou coach Jorge Barbosa, who starts only two seniors, said, "It's a shame the ILH can only send one team to states. These are both very good teams."

Punahou learned yesterday that starting freshman forward Jennifer Lau would be lost for the season with a fractured right ankle suffered when she was tackled in Tuesday's game against Maryknoll. It is the third broken ankle of Lau's soccer career, but the first of her right ankle, she said.

Interscholastic League of Honolulu

Girls

Pac-Five 1, St. Francis 0. Pac-Five: Kristen Chung.

Maryknoll 5, Mid-Pacific 0. Mary: Erin Ota 2, Lindsey Mizota, Kerianne Pascual, Monica Yempuku.

Maui Interscholastic League

Boys

King Kekaulike 4, Maui 0. KK: Bryan Davis, Noa Emberson, Andrew Marks, Ryan Kreps.