By Stacy Kaneshiro
Advertiser Staff Writer
Fourteen pitchers, 16 extra-base hits and three hours and 53 minutes later, Sacramento State battered Hawai'i, 11-8, to avert a sweep in collegiate baseball yesterday.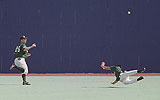 Daryl Grant's hit past Hawai'i left fielder Chad Boudon, left, and center fielder Shane Chan for a double to lead off the second inning for Sacramento State.

Bruce Asato • The Honolulu Advertiser

A matinee crowd of 971 watched Patrick Scalabrini end the Rainbows' fence-clearing home run drought at Rainbow Stadium at 1,607 official at-bats spanning three seasons. But his ninth-inning solo shot wasn't the first to clear the new wall, which is 15 feet closer to home plate. Sacramento State's Tim Maghan hit a bases-empty homer over the left-field fence in the fourth inning. Neither homer would have cleared the original wall, which had dimensions of 340 feet down the line, 380 to the alleys and 400 to center.

"I've got mixed feelings about it," said Scalabrini, whose only other homer in his career was on the road last year. "The loss, of course, we're really disappointed, but at least we're showing a little character, showed that we'll battle until the end. For the home run, it felt real good. It's been a long time."

Before Scalabrini's homer, the last one hit out of the park by a Rainbow was April 16, 1999 by Wade Taguchi against UH-Hilo.

The new wall also figured in five ground-rule doubles — two by the Rainbows — that bounced over the new 10-foot high walls, two feet shorter than the original.

The Rainbows are 2-1 and the Hornets are 1-2.

Nothing could contain the Hornets' bats, which amassed 20 hits against six of UH's seven pitchers. Aurelio Jackson led the surge, batting 5-for-6 with three RBIs. Daryl Grant went 4-for-5 with three doubles and Maghan was 3-for-4.

After strong outings by UH starters in the first two games of the series, Gavin Garrick (0-1) could not match his predecessors. Garrick lasted 2¡ innings, allowing six hits and three runs. He was over the plate — 25 of his 31 pitches were for strikes — but too hitable. He gave up three doubles in the third inning that accounted for two runs.

"You're going to have your good days, you're going to have your bad days," UH acting coach Furutani said. "Gavin made some good pitches. The bad pitches he made, they hit. That's the way it is. I expect Gavin to be better the next time out there. If you looked at how he pitched, he did make some good pitches. When he left it up, he got hit."

Relievers who followed him didn't fare much better. Matt Le Ducq allowed four runs in 1¡ innings; Chris Quiroz one is 1¡ innings and William Quaglieri two in two innings. After a combined scoreless inning by Grant Sato and Ryan Yamamoto, Aaron Pribble gave up a run in one inning.

Steve Cuckovich (1-0) fought off threats by the Rainbows, stranding eight runners in five innings. He allowed six hits and two runs, one unearned, while striking out seven. Six relievers followed him.

"He did a good job of mixing his pitches, spotting his pitches," Furutani said of Cuckovich. "He kept us off-balance a little bit."

The Rainbows had 12 hits, but 10 were by the first four batters of the order. Scalabrini and Gregg Omori each had three hits, while Matthew Purtell and Danny Kimura had two apiece.

The Rainbows trailed 8-2 after four innings, chipped away at their deficit, but the Hornets kept responding with more runs.

The Rainbows begin a three-game series against UCLA of the Pac-10 on Thursday.