By Kyle Sakamoto
Advertiser Staff Writer
'Iolani made it three consecutive Interscholastic League of Honolulu softball titles yesterday at Ala Wai Playground field.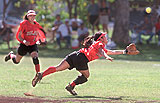 Second baseman Jocelyn Tamayo is about to make a catch in the third inning as right fielder Stacey Higa comes in on the play.

Jeff Widener • The Honolulu Advertiser

Ianeta Lei pitched a three-hitter and her teammates came through with timely hits as the Raiders defeated Kamehameha, 4-1, in the ILH championship playoff game.

Lei, who walked none and struck out two, threw 76 pitches (21 balls and 55 strikes).

"Neta pitched one of her best games of the season," 'Iolani coach Chris Shimabukuro said. "She was locating pitches and she was very focused. Even before the game started when we were warming up, she had her game face on."

Lei committed a throwing error in the second inning, which allowed the Warriors to score their lone run.

From the third through seventh innings, Lei faced just two batters more than the minimum.

'Iolani's middle infield turned in the plays of the game during the third inning.

Shortstop Noelle Izumi robbed Napua Naumu of a hit with a diving stab to her left. She got up and threw to first baseman Taryn Nagata to complete the play.

Two batters later, second baseman Jocelyn Tamayo took a hit away from Talia Ruth by making a diving catch on a pop up behind first base.

"My defense really helped me today," Lei said. "Knowing I had a defense that could back me up gave me confidence."

Kamehameha starter Leo Sing Chow pitched a complete game with one walk and six strikeouts. Ten of the 11 hits she gave up were singles.

'Iolani's Maile Sylva singled in a run in the second, Stacey Higa had an RBI-double in the fifth, and Amy Taniguchi had a run-scoring single in the sixth. The Raiders added a run in the seventh on a fielding error by Kamehameha's first baseman.

'Iolani went 3-for-6 with two RBIs with runners in scoring position. Three of the Raiders' runs were scored with two outs.

"We came up with a lot of clutch base hits," Shimabukuro said. "Our players really performed well under pressure."

Said Kamehameha coach Ty Sing Chow: "They brought their bats today. They played the complete game."

Both teams qualified for the state tournament before yesterday's game by finishing the regular season 12-2.

The state tournament is Wednesday through Saturday at Rainbow Wahine Softball Stadium. 'Iolani has won the tournament the past two seasons.

"Playing under this kind of pressure is very similar to what they'll be facing in the state tournament," Shimabukuro said. "We're a very young team. We made a lot of mistakes today, but they're learning and improving. As a coach that's all you ask for."

Said Ty Sing Chow: "We're kind of down right now, but that's normal. We'll be back. We start on Wednesday, and we have to play every game like it's our last."

'IOLANI 010 011 1—4 11 3

KAMEHAMEHA 010 000 0—1 3 1

WP-Ianeta Lei.

Leading hitters: Iolani-Stacey Higa RBI-double; Tara Yanagihashi 2-3; Maile Sylva 3-3, RBI; Jocelyn Tamayo 2-2.