Advertiser Staff
Eight players — including the goalkeeper — scored goals as Punahou's girls thundered to the Interscholastic League of Honolulu girls soccer championship yesterday by swamping St. Francis 8-0 at Punahou.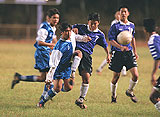 Pearl City's Daniel Park (7) gets a kick past a Kailua defender.

Cory Lum • The Honolulu Advertiser

The other two teams in contention were eliminated when Kamehameha broke from a 1-1 halftime tie to whip 'Iolani 4-1 at Mid-Pacific.

The ILH season ends Tuesday and Punahou (9-0-2) has 29 championship points (3 per victory, 1 per tie). 'Iolani (7-2-2) plays Punahou in its final game but has 23 points and cannot catch up. Neither can Kamehameha (7-0-4, 25 points) even though it is unbeaten.

The Buffanblu, kept informed of the Kamehameha-'Iolani score by cell phone, knew before their game started that 'Iolani had lost and the title was theirs with a victory. They wasted no time securing it, scoring three times in the first 13 minutes.

After freshman goalkeeper Alison Lipsher was moved to forward and scored her first career goal for 8-0, coach Jorge Barbosa ordered his players not to shoot for the last 11 minutes of the game.
ILH boys: Defending champion 'Iolani moved into a first place tie with Punahou yesterday, defeating Pac-Five 1-0 while Punahou was tied by Kamehameha 1-1.
'Iolani (6-0-2) and Punahou (6-1-2) each have 20 championship points. Kamehameha (5-2-2) has 17. In the final week of the season, 'Iolani plays both Punahou and Kamehameha within three days, Feb. 5-7.
Both goals in the game at Punahou came off corner kicks.
Kamehameha scored in the opening minute of the second half when Noeau Camarillo took a corner from Chad Imhoff-Sills, drove in low and flicked it in.
Punahou tied the score in the 22nd minute. Kyle Kagihara played in a corner to Charles Rania, whose good header was blocked. A long scramble in front of the goal ensued and Stephen Carlson poked the ball in.
The rest of the game was frantic, but neither team could break the tie.
Girls varsity
Kamehameha 4, 'Iolani 1. Kam-Krystalynn Ontai, Gabby Badua, Lehua Wood, Kaleinani Titcomb. Iol-Lauran Dignam.
Punahou 8, St. Francis 0. Pun-Kaily Lam, LesliAnn Kikuchi, Charlene Lui, Adria Campbell, Shaina Sonobe, Lindsay Yuh, Pippa Macdonald, Allison Lipsher.
Pac-Five 2, Mid-Pacific 0. Pac-Five-Jessica Choy, Riki Kimura.
Boys varsity
'Iolani 1, Pac-Five 0. Iol- Mike Terry.
Punahou 1, Kamehameha 1. Pun-Stephen Carlson. Kam-Noeau Camarillo.
Mid-Pacific 3, Damien 1. MPI-Chris Adaniya, Richard Higa, Brandon Taoka. Dam-Lokahi Bounds.
OIA
Boys tournament: It will be all Western Division at the O'ahu Interscholastic Association boys soccer championship tournament semifinals Wednesday at Mililani High.
Western Division teams won all four quarterfinal games yesterday, knocking the Eastern Division's best into the consolation bracket.
Campbell, the fourth seed in the West, beat East champion Castle 1-0 in a penalty-kick tiebreaker.
'Aiea, third seed in the West, whipped East runner-up Kalani 4-0.
Unbeaten Western champion Pearl City racked up Kailua 6-2 and West runner-up Mililani put down Radford 4-1. Radford, sixth seed in the West, had eliminated Kalaheo, the East's No. 3 seed, in the opening round on Friday.
Yesterday's four winners all qualified for the state tournament at Aloha Stadium Feb. 14-17. The losers will fight in the consolation bracket for the OIA's fifth state berth.
The only close game yesterday was at Castle, where the Sabers made four penalty kicks to the Knights' two in the tiebreaker after the teams went scoreless through 100 minutes of regulation and two overtimes.
'Aiea's Ben Villaflor, Pearl City's Robert Shinn and Daniel Sanchez and Mililani's Jarrett Razon, a 2000 all-stater, and Blaine Murakami each scored two goals yesterday.
Pearl City (10-0-0) was ahead 6-0 and had cleared its bench before Kailua scored in the 62nd minute.
"It was a clash of styles," Charger coach Scott Keopuhiwa said. "They put pressure on us because of their style of play and it forced our kids to do things they're not used to but we were fortunate enough to come away with six goals."
OIA Championship Tournament
Boys varsity
First round
Kailua 2, Leilehua 0
'Aiea 2, Roosevelt 0
Campbell 2, Kaiser 1
Radford 3, Kalaheo 2
Quarterfinals
Yesterday's Results
At Pearl City
'Aiea 4 , Kalani 0. 'Aiea-Benji Villaflor 2, Skip Saito, Jarvis Uehara.
Pearl City 6, Kailua 2. PC-Robert Shinn 2, Daniel Sanchez 2, Daniel Park, Aaron Venable. Kai-Stan Drapesa, Joey Shaffer.
At Castle
Mililani 4, Radford 1. Mil-Jarrett Razon 2, Blaine Murakami 2. Rad-Daniel Gundersrud.
Campbell 1 Castle 0. (2 overtimes, penalty kicks). Camp PKs-Kenji Lee, Michael Ryman, Taisei Lee, Chris Kita. Cast PKs-Blaine Fujimoto, Darryl Tangonan.
Consolation semifinals
Tuesday at Kailua
Kalani (6-2-3) vs. Kailua (7-3-2) , 5:15 p.m.
Radford (5-6) vs. Castle (7-3-1), 7 p.m.
Championship semifinals
Wednesday at Mililani
Pearl City (10-0-0) vs. 'Aiea (9-2-0), 5:15 p.m.
Mililani (8-1-1) vs. Campbell (8-2-1), 7 p.m.
Third and fifth place
Friday at Kailua
Third place, 5:15 p.m.
Fifth place, 7 p.m. (winner gets state berth)
Championship
Saturday at Pearl City
Semifinal winners, 7:30 p.m.
Admission for all games: $5 general admission; $3 for qualified students.