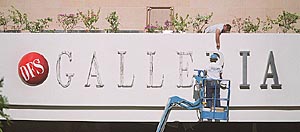 Construction workers put up a news sign for the revamped DFS Galleria in Waikiki.

Euguene Tanner • The Honolulu Advertiser
By Sally Apgar
Advertiser Staff Writer
Like stagehands rushing to finish theater sets before opening night, yellow-helmeted construction workers poured sidewalks and removed plastic from windows last week in busy preparation for tomorrow's opening of the $65 million DFS Galleria in Waikiki.
Inside, the Galleria features a two-story aquarium, a ceiling mural of a postcard-perfect blue sky and storefronts fitted with pillared facades that evoke Honolulu's architectural past.
More reminiscent of an elaborate soundstage than a store, the Galleria's furnishings and decor are designed to carry shoppers back into the boat days of the 1920s through 1950s, before jets displaced cruise ships and their aura of luxury, glamour and anticipation.
The nostalgic theme is a showcase for DFS merchandise and is designed to pull tourists — primarily the brand-conscious Japanese — into the gleaming complex, up the gangways of a three-story replica of a 1920s cruise ship and into the 50,000-square-foot duty-free concession.
The Galleria, a Hawai'i-flavored adaptation of national trends in themed and entertainment retailing, is the latest and perhaps the boldest private effort so far to reinvigorate Waikiki and draw new interest from tourists who have become bored or unimpressed by the aging and tired look of Kalakaua Avenue.
It opens at the same time the city is spending more than $12 million to widen sidewalks, plant coconut palms and build sparkling tide pools and waterfalls to beautify the avenue and its beaches.
Retail executives and Waikiki boosters hope the Galleria and a high-end retail project by the Honu Group nearby on Kalakaua will put pressure on others to update their stores.
"Retailers have to build and polish and change. It's part of the cycle of retail life," said local retail consultant Marty Plotnick. "When the Galleria gets its operation going, that's the time to ask who's going to survive."
Wooing them back
Sharon Weiner, a spokesperson for the DFS Galleria, said the theme and design for the project was developed after extensive research that focused on why DFS was losing the primary duty-free customer: Japanese tourists.
Weiner said the company's research found that Waikiki had about 13.1 percent of the world market for Japanese visitors in 1995. It is estimated to be 10.3 percent for 2000, she said.
Weiner conceded that the implosion of the Asian economy was a significant factor but said the bigger problem was Waikiki itself.
"Our market research shows that (Japanese) visitors think that Las Vegas has more culture than Hawai'i and Korea has better food than Hawai'i," Weiner said.
Based on research that found visitors want history, culture and entertainment, DFS, with the help of Kajioka Yamachi Architects and Rim Architects, devised the boat day theme, which includes a hula performance every evening at 6:30. The merchandising is geared closely to the theme.
At the entrance is Waikiki Walk, designed to look like a collection of local merchants selling to tourists at the pier. Here tourists can shop Liquid Planet, a huge surf shop that offers Hawai'i-branded or themed merchandise such as sportswear from Tori Richard, Island Heritage and Crazy Shirts.
Already, other changes are noticeable on Kalakaua Avenue. The family-owned Waikiki Shopping Plaza, a small two-story building containing mom-and-pop retailers, is renovating its frontage.
But retailers are more concerned about the larger players, most notably the 1982-vintage Royal Hawaiian Shopping Center, which hulks across the street from the Galleria. In comparison with the Galleria's gleaming white minimalist exterior, the brown and black Royal Hawaiian Shopping Center has all the architectural appeal of a dimly lit parking garage.
Richard Wong, president of the Royal Hawaiian Shopping Center, said last week the 284,000-square-foot mall will be making changes but he is not ready to announce them for five or six months.
"We don't want to tip our hand," Wong said.
Perhaps because of its massive size and central location, the Royal Hawaiian complex has become a magnet for criticism in recent years from local retailers frustrated the mall has done little to refresh itself.
"It's a wasteland of emptiness above the second floor and the whole Diamond Head end," Plotnick said. "There's no marketing energy. Their idea of a promotion is a hula show in the courtyard for tourists from Iowa to see while they sit in folding chairs."
Retail 'epicenter'
At least one of the many upscale stores — the Chanel boutique — in the Royal Hawaiian will be moving into the Honu project. Others are rumored to be following but declined to confirm their intentions.
"It's hard to maintain an upscale image in a rundown shopping mall," said the manager of an upscale boutique that is considering a move and asked not to be identified.
Chanel regional vice president Joyce Okano Reed said Chanel is moving because it will have a freestanding store in the Honu project.
Reed said the blocks surrounding the Royal Hawaiian were considered the "epicenter of retail in Waikiki" until the Paris-based luxury products group, LVMH Moet Hennessy Louis Vuitton, bought a building near Lewers Street.
LVMH, which is also the majority owner of DFS Group LP, built an elegant Prada store on the block next door to a Mos Burger and Burger King. The Prada store, followed by the new DFS Galleria and Honu projects, will further shift upscale retail 'ewa on Kalakaua toward the Convention Center.
Scheduled to open in November 2002, Honu's 95,000-square-foot luxury project, called 2100 Kalakaua, will consist of eight three-story buildings rendered in traditional Hawaiian-style architecture in marble, limestone and lava rock. Each retailer will have a building presiding over Kalakaua Avenue. To date, three of the eight retailers have been announced. In addition to Chanel, Tiffany & Co. has signed a lease to move into the $140 million project from its location inside the Sheraton Moana Surfrider. At 11,400 square feet, the new Tiffany store will be four times larger than the existing store at the Moana and one of the largest stores in the New York-based jeweler's 140-store chain.
The third tenant is Italian footwear retailer TOD's.
"This isn't a mall," said Honu president Tom Applegate. "The project is basically upscale and will give each of these global retailers a chance to have a flagship store fronting Kalakaua. Kalakaua is very important to these retailers."
Tired themes
In late 1997, the Honu Group opened the 81,000-square-foot King Kalakaua Plaza. The plaza contains NikeTown, Banana Republic and an All-Star Cafe, which were considered cutting-edge retailers in the 1990s.
Themed and entertainment retail have been around in various evolutionary stages since 1992, with the most successful execution considered to be the Mall of America in Bloomington, Minn., which opened in 1992. The sprawling megamall, which includes a walk-through tunnel aquarium, has about 400 stores and is built around a 7-acre amusement park.
The megamall was a dramatic departure from the "build it and they will come" mindset of retail developers in the 1970s and 1980s. Entertainment retail — "retail as experience," as its proponents described it — was aimed at keeping shoppers, tired of anonymous malls and interchangeable food, entertained so that they would stay longer and, presumably, spend more on meals and merchandise.
Warner Bros. and Disney were among those in the first generation of entertainment retailers.
But barely eight years later, Warner Bros., Disney and even NikeTown, among other themed retailers and restaurants, are struggling because they haven't changed. Retail experts say consumers are increasingly bored by these unchanging formats.
"Themed retail and themed restaurants in America have hit the skids. The basic reason is they had Act 1 but they never had Act 2 or Act 3," said Howard Davidowitz, chairman of New York-based Davidowitz & Associates Inc., a national retail consulting and investment banking firm.
"Warner Bros. opened and everyone said 'Wow.' But how many Bugs Bunny dolls can you sell? And look at NikeTown. How long can you look at old sneakers in a museum case?"
Davidowitz said: "A successful retailer like The Gap changes its look every 30 days. In retail, newness is critical. It's got to be different consistently. If you can't have new things, no matter how good the first act is, people won't keep coming back."
So the challenge for DFS and others relying on themes is to find ways to keep offering something new to bring people back.
To that end, DFS studied the latest generation and most successful entertainment retail center in the country: Sony's Metreon in San Francisco.
Opened in June 1999, the $115-million Metreon is a three-dimensional ad for Sony products. Entertainment dominates retail in the the 350,000-square-foot complex, which includes 15 movie theaters, an IMAX, a wildly popular video arcade called Airtight Garage and stores aimed at demonstrating Sony products and technology.
"Themed retail is not working nationally. But it works for tourist destinations and projects like Metreon," Davidowitz said. "Waikiki is a tourist center with a very different mix of people and motivations (than a standard suburban mall). If it's managed right, this kind of retailing probably makes sense for Hawai'i."