Advertiser Staff
The owners of two commercial ecotourism companies who will lose permission to lead tours to Manoa Falls next month say they are not causing the problem of overuse at the popular tourist attraction.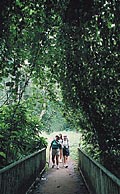 Lorraine Beham of O'ahu Nature Tours leads a group to Manoa Falls. The company is one of two losing permits to lead tours to the popular attraction.

Gregory Yamamoto • The Honolulu Advertiser

They say it results from the state not enforcing its own rules regulating tours by nonprofit groups, said Mike Walther, owner of O'ahu Nature Tours, who along with John Alford of Ohana Adventure Tours/Bike Hawai'i will lose his permit Feb. 15.

But state officials believe public use of Manoa Falls and the trail leading to it is reaching the point of threatening the resource even without any commercial tours.

"It seems unfair at face value," said Curt Cottrell of the state Na Ala Hele Trails and Access Program, which monitors the trail. "But we've come to the conclusion that even after illicit operations are cleaned up, we've reached the max with just tourist and local use."

The dispute is yet another example of how efforts to lure eco-tourists to enjoy the state's natural beauty must be weighed against preserving the environment and resources enjoyed by visitors and Hawai'i residents.

Cottrell said Manoa Falls is only one symptom of a larger problem that has come up before, notably at Hanauma Bay and Hanalei River.

"We're learning ecotourism comes with a lot of grains of salt," Cottrell said. "Manoa Falls is only the current poster child."

Walther, whose Oahu Nature Tours has been in business for more than three years, said he might have to lay off some of his seven workers if he is prohibited from going to Manoa Falls.

Believes in ecological protection

He said his company and Ohana Adventure Tours were told the state was revoking their permits because it could not enforce regulations on the trail.

"We've been willing and cooperative participants since this began," Walther said. "I believe in ecological protection and I am willing to pay my ($3) per-person fee."

But Cottrell said enforcement is only one reason commercial permits are being revoked. "They're being asked to leave because use is exceeding what our managers say is appropriate," Cottrell said. "If the overuse continues, then the public goes, too."

He said the state Department of Land and Natural Resources' priority list for Manoa Falls places management as its prime objective, followed by access for the general public and finally for commercial operators.

"They're saying 'no fair, no fair,' but we cannot in good conscience add to the pressure and allow commercial use," Cottrell said. "They're the low man on the totem pole, and they were told that up front."

Walther said he takes about a half-dozen customers a day to the falls, while Alford said he can handle 11 but is rarely booked to capacity.

Walther said the rules, which aren't enforced, require nonprofit groups to apply for a permit if they take more than 12 people on a tour, and limit them to one trip to the falls per month.

"It gets old when you see the so-called nonprofits walking by with 30 to 40 people," Walther said.

Alford also said he had seen a nonprofit company making multiple trips along the trail, which is less than a mile long.

Walther declined to identify the nonprofits he says are breaking the rules.

Cottrell noted that while commercial use may not be making a significant impact right now, five other companies want permission to visit Manoa Falls. "The potential daily use by all seven vendors was 100 patrons per day," he said. "The commercial capacity established for Manoa Falls is only 24 ... per day."

'Ruin the experience'

Walther believes the state should be encouraging legitimate tours, such as his and Alford's, instead of banning them and allowing unregulated nonprofits to remain in operation.

"They disregard regulations," Walther said. "They have no overhead, and they ruin the experience."

Cottrell said that while groups that are breaking the rules should not be at the falls, they need to be caught in the act. "They seem to stay away when we're there," he said. "It's like a cat-and-mouse game."

The rules regarding nonprofits were meant for "legitimate" groups, he said, such as the Boy Scouts and school excursions.

Tour companies have options, he said. "There are six other state trails they have access to, and we're recommending they make deals with private landowners to get access to the wilderness."

Agencies such as the Hawai'i Tourism Authority, Public Utilities Commission and the Department of Business, Economic

Development and Tourism must develop a comprehensive eco-tourism policy, he said, to protect resources and examine all aspects of the growing industry.

"Manoa Falls is indicative of the state trying to balance commercial use and public interest," Cottrell said. "While our job is protection, we're willing to accommodate the commercial interests. But we need standards."