By Walter Wright
Advertiser Staff Writer
The outburst of raw animal energy brought shouting Honolulu residents to their feet yesterday.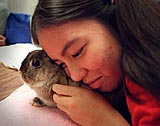 Snuggles, a 5-year-old male rabbit gets some affection from his owner, Nalani Kito-Ho of Pearl City. Nalani, 13, brought her pet to a bunny care class in Lanakila.

Deborah Booker • The Honolulu Advertiser

"Snuggles, no!" cried Nalani Kito-Ho, 13, of Pearl City, as the 2-pound male sank his teeth into the Netherland dwarf in a no-holds-barred battle for dominance.

The fur was flying at a bunny care class that made Super Bowl XXXV look like ... a bunny care class.

Snuggles cowed Bunnicula, brought Brownie to the ground, and took bite-size chunks out of Mimi's pelt.

"And that," instructor Cinde Fisher said, pointing at Snuggles, "is why we recommend that all rabbits be spayed or neutered."

The class was held at the Maluhia Health Care Center in Lanakila.

Snuggles' rampage was the exception, though. Most of the time, he and Brownie, Bunnicula and Mimi hopped up for a cuddle, wrinkled their noses or gnawed quietly on pages from the "House Rabbit Handbook."

"It's the bible of bunny care," Fisher said, "and it is a very dangerous book. I just looked at it and I was hooked."

With Easter approaching, Fisher warns against impulse purchases of pet rabbits.

Many owners ignore them in "rabbit prison" cages. Others turn them loose to almost certain death in the wild, she said. And the Humane Society received almost 750 rabbits last year.

But for responsible, trained fans and fanciers, bunnies are hard to beat.

Carol Kenada of Makiki calls them "shhh kittens," an animal so quiet and clean that they are often overlooked in otherwise pet-free buildings.

The biggest challenge is the chewing, Kenada said. Because she didn't bunny-proof her home at first, she ended up taking her computer in for repair until she discovered it was her rabbit that caused all the Internet error messages by nibbling through the telephone line.

Helen Kikuchi, an insurance administrator who has had three rabbits over the past 16 years, says spending time with Mimi when she comes home from her high-stress job "gives me comfort."

Why not just have a martini?

"Well," Kenada chimed in, "a martini won't lick you back."