Scoreboard
By Ann Miller
Advertiser Staff Writer
WAILEA, Maui — Faced with a dilemma of legendary proportions, Jack Nicklaus walked the legend's walk yesterday: He made the putt that cost him the Senior Skins Championship.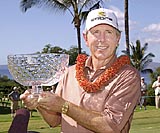 Hale Irwin won the Senior Skins Game trophy, seven skins and $320,000.

Associated Press

Hale Irwin will forever be grateful.

Nicklaus kept Irwin in the game by sinking a four-foot birdie putt on the final hole to match Gary Player. Then, Irwin knocked in a three-footer on the first extra hole (No. 18, again) to win $180,000, three skins, and the overall championship over Nicklaus.

Irwin captured $320,000 and seven skins in all. Nicklaus, who played the Wailea Gold Course in 6-under-par 66, won $260,000 and 10 skins.

The skin Arnold Palmer won Saturday was worth $20,000, while Player — the defending champion — was shut out.

On a brilliant Maui morning, four of golf's greatest took on each other and the foibles of the made-for-TV skins format. The game rewards only the lowest score on each hole; if two or more tie low, the "skin" carries over.

That led to a quandary for Nicklaus on what could have been the last hole — if this was not a game of unique integrity.

As Nicklaus pondered what could have been the final putt at No. 18, he spoke to no one in particular.

"I have a heck of a dilemma," he said. "If I miss, I win. If I make it, I have a chance to lose."

"The same thing happened to me two years ago," said Irwin, who also took the honorable path in 1999, making a putt that extended the drama, then winning anyway.

Irwin grinned. "Knock it in," he said.

Player, with $180,000 halfway in his pocket, grinned wider: "Let me make a suggestion," he said with a wink in front of 4,000 spectators and the TV audience. "Have you ever had anyone offer you $50,000 to miss a putt?"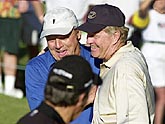 Arnold Palmer, left, gave Jack Nicklaus a hug after they halved the Wailea Gold Course's 16th hole at the Senior Skins Game on Maui. In the foreground is Gary Player. Palmer won one skin worth $20,000, Nicklaus took 10 skins and $260,000, and Player failed to win any skins.

Associated Press

Nicklaus saw no option. "I don't know what I like better, $180,000 or crystal," he said. "I think crystal. No, I know what I have to do. I would never miss one on purpose, I promise you.

"Never on purpose," he said, stepping to the ball and emphasizing the final two words.

He stroked the putt into the heart of the hole.

On the playoff hole, Irwin "chopped down" with a 9-iron because his ball was lying in a divot and hit his approach shot 118 yards, to three feet of the hole. No one else was within 15 feet, or even came close to birdie.

"I'm very disappointed in the final outcome of this," Nicklaus admitted, "but it was my own doing."

Player interrupted. "He wouldn't have missed it on purpose, but if he had missed it, genuinely he would have felt a lot better now."

Nicklaus managed a smile: "I'd have felt a lot better if I'd putted normally," he joked.

The dramatic and quirky ending — Irwin called it a "hiccup in the format" — was only the third hole won all day.

Nicklaus got the first on the back nine when he slammed in a 25-foot birdie putt to win $200,000 and seven skins at No. 12. That ended a 22-hour, 45-minute skinless span; the front nine was played Saturday and the back began at 7:15 yesterday morning, with the players warming up under floodlights.

Irwin closed the gap with a four-foot, $120,000 putt on the 15th. Player was just short of winning a skin on the next hole, and Nicklaus covered his birdies on the next two.

"Emotionally, you want to play well so you won't take yourself out of any hole, and Jack kept doing that," Irwin said. "He was a factor on every hole and that wasn't always the case with me.

"The flip side of that is to be opportunistic, and I had my opportunity. . . . There was never any doubt in my mind that when you have the likes of Jack Nicklaus, Arnold Palmer or Gary Player . . . those guys will never, ever, under any circumstances do something purposely that would hurt the game. It's in their very blood and character and the integrity they have for the game that they will try on each and every shot."

Irwin's face broke into a big grin.

"Thankfully," he said, "Jack performed just as he was supposed to."
SHORT PUTTS: The 2002 Senior Skins Game will be Jan. 26-27 at Wailea Gold. . . . Jack Nicklaus has played in 11 Senior Skins Games, and won just once (1991). . . . Gary Player has won one hole in his last 81 Senior Skins holes, but it gave him the championship last year. . . . Hale Irwin donated $64,000 — 20 percent of his winnings — to the St. Louis Children's Hospital. Irwin has been in four Senior Skins Games and also won in 1999. . . . Nicklaus donated $52,000 to the Barbara and Jack Nicklaus Junior Golf Endowment Fund, which helps the First Tee program. . . . Wailea officials lowered their initial gallery estimate for Saturday to 4,000 and estimated a few more attended yesterday.