By Andrew Gomes
Advertiser Staff Writer

If Las Vegas had a Hawai'i — like it has a New York, Paris and Monte Carlo — this would be it: DFS Galleria's Waikiki Walk, which is every bit as simulated as the detailed, oasis-like re-creations of Vegas. But instead of transporting people to another place, Waikiki Walk takes them back to another time.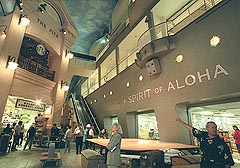 The Waikiki Walk takes people back to the 1920s at Pier 7, where the Spirit of Aloha is "docked." While nostalgic in its decor, the center also offers high-tech interactive activities, including e-mail postcards and golf simulators.

Deborah Booker • The Honolulu Advertiser

Today, visitors and kama'aina can stroll back to Hawai'i circa 1928 at the DFS Waikiki Walk at Kalakaua and Royal Hawaiian avenues.

There's the Moana Hotel, Dillingham Transportation Building, 'Iolani Palace and Pier 7. A passenger steamer is tied to the dock below a blue sky that turns orange as the sun sets over Diamond Head every hour. Behind the railings of the ship's second and third decks, people observe the scene below.

"This is a vintage, real, authentic connection to the customer," DFS Hawaii President Bob Coe said of the facades modeled after their real counterparts. "You gotta go to Vegas to find something like this. Even at the Venetian, you don't see this detail. It's incredible."

What DFS has created is a 70,000-square-foot extension of its 12,000-square-foot flagship store that opens today. Two-story retail shops (all operated by DFS, which buys name-brand merchandise wholesale) line the "street." The original four-story Galleria resembles the inside of the ship.

All areas are open to the general public except for the third floor, where shoppers must present a ticket or reservation for a direct out-bound international flight to buy duty-free merchandise.

Coe refers to Waikiki Walk as a multidimensional specialty retail, entertainment and dining experience. "The whole idea is: This is not a store; this is an experience," he said.

DFS spent $50 million to redevelop the Nippon Shinpan Building as Waikiki Walk and turn the first floor of its existing Galleria into a cargo deck of packaged foods and a restaurant. It spent $15 million to renovate the Galleria's third (duty-free) floor, adding shops and a ship cabin theme.

Another $10 million will go to upgrade the second floor this fall, upping the total cost of the project from $65 million to $75 million.

Coe, who won't reveal how many people shop at DFS's Waikiki store, said he expects the number will double because of the interactive expansion involving more than scene-scapes.

To lure customers, Waikiki Walk features one of two versions of a Hawaiian stage act nightly at 7 p.m. Throughout the complex are 15 touch-screen computer terminals that will take your picture and e-mail a personalized postcard for free. They also can be used to surf the Internet for free. Also free is a golf simulator for hitting real balls onto computer-simulated courses, including Mauna Lani and Pebble Beach.

The Tube is another piece of interactivity. It is a two-story aquarium at the main corner of the building that contains a stairway to the second floor. "The purpose of that is to drive business to the second floor, because traditionally in retailing, getting people to the second floor is difficult to do," said Sharon Weiner, DFS group vice president.

Other details include a giant faux hau tree that hides a support column for a parking ramp outside, streamers fired by cannon off the ship and a restaurant featuring a "tourist version of Hawaiian food" with pig and chicken turning on spits.

In one respect, Waikiki Walk is not how Vegas would do it. Missing is the constant ching-ching-ching-ching of casino games, as well as smoky air.

Coe said he aimed for an image of Waikiki's boat days, when visitors arrived on steamers and dreamed of Hawai'i as an exotic and romantic place.

"This is a romantic connection to Hawai'i," he said. "We're trying to capture the past."