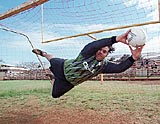 A defensive end in football, first-year soccer player Kawika Ishikawa has come up big as a goalkeeper for the Campbell High Sabers.

Gregory Yamamoto • The Honolulu Advertiser
Worth his weight in goal
Kawika Ishikawa, goalie for Campbell High's soccer team, carried his team to victory Saturday night against Eastern Division champion Castle, although he has never played soccer before this season.

Dunn, Woodson back in Pro Bowl for more
Tampa Bay running back Warrick Dunn and Oakland cornerback Charles Woodson are young players who likely have many more Pro Bowls ahead of them. Dunn was named a replacement last week and Woodson was selected in the first round.