By Paula Rath
Advertiser Staff Writer
Editor's note: This is another in a series of reports by fashion writer Paula Rath about shopping for fashion on the Neighbor Islands. Here, she reports on a recent trip to Hilo.
Downtown Hilo has not yet succumbed to the big box stores or designer boutiques. No GAP, Gucci or Prada here. Fashion-wise, Hilo is still a sleepy, down-home kind of place, offering hand-crafted clothing and accessories with old-fashioned island flair.
Hilo's "Main Street," Kamehameha Avenue, is where most of the fashion scene unfolds.
Politics in prints
Designer Craig Neff, owner of The Hawaiian Force, began silk screening T-shirts in the early 1980s because he wanted to make a political statement.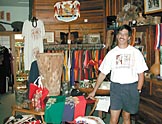 Craig Neff, owner/designer of Hawaiian Force in his shop on Kilauea Avenue in Hilo.

Gerald Mayfield • Special to The Honolulu Advertiser

His first silk screen read "Hawaiian Blood" in red on black with the red ink seemingly dripping from the letters.

"We started with radical designs, then cultural, then local and funny," Neff said in an interview in his Hilo shop. "Now Hawaiian political designs are almost mainstream."

Neff's current motifs include octopus, ulu (breadfruit) and Hawaiian moon phases. Also the statement "Live aloha. Return stolen lands."

Hawaiian Force is often credited with the first two-tone dresses, in which a T-shirt serves as the body, then another T-shirt or a strip of fabric is sewn to the hem to create a longer dress and two-colored garment. These are still the company's bread and butter, Neff said, but he has branched out into two-piece linen pants sets, cotton and linen dresses and a short, empire-style dress.

His next big thing will be engineered prints, created specifically for blank ready-made dresses. He also plans to print yardage to make his own line of aloha shirts.

On O'ahu, Neff's shirts are available at Hale Ku'ai co-op in Hau'ula.

Location: 140 Kilauea Ave.

Phone: (808) 934-7171 or on Oahu: 373-3458
Play it again
Michele Zane-Faridi has a passion for vintage Hawaiian clothing and she has been collecting it throughout her eight-plus years in business. Her jewel of a shop, Hana Hou, is a clear reflection of her personal taste.
"But I couldn't keep up with the prices to buy vintage as it became trendy and expensive, so now I'm buying locally made and South Pacific clothing with the same period effect," she said.
A student of the art of lauhala weaving, Zane-Faridi works directly with weavers from throughout the Big Island as well as Maui and Kaua'i to recreate designs from bygone days. Her lauhala hat collection, cleverly displayed throughout Hana Hou, is among the best in the Islands.
She is currently designing her own line of mu'umu'u based on prototypes from the late 1930s and early 1940s. Her goal is to introduce these cotton and rayon garments at this year's Merrie Monarch festival set for the third week of April in Hilo.
Location: 164 Kamehameha Ave.
Phone: (808) 935-4555
Graphics galore
Well-known fashion and textile designer Sig Zane, Michele Zane-Faridi's brother, has his Hilo boutique just a few doors down from Hana Hou.
His hand-screened designs are eye-poppers, with bold, unexpected color combinations and powerful graphics. Zane usually creates three or four new prints a year. However in December 2000 alone, he completed five new designs. They are:
Maunaloa orchid plant
Nanu (Hawaiian gardenia)
Kaulu wauke (paper mulberry), a design incorporating ohe kapala (bamboo stamps)
Pua kapia (arrowroot flower)
Awa root and awa laulena (leaves and stems of the yellow-leafed awa)
Zane prints only 50 yards of each design in a given color, then changes the screen to a new color. This means every print is a limited edition, with only about 22 shirts (or even fewer dresses) in each design/color combination.
His silhouettes include aloha shirts, shirt dresses (sleeveless and short-sleeved), a princess line dress with short sleeves, a sleeveless shift and keiki dresses.
Location: 122 Kamehameha Ave.
Phone: (808) 935-7077
A Japanese touch
Dragon Mama, owned by soft-spoken and elegant Utae Arai Suzuki, specializes in futons and custom-made futon covers, frames and natural fiber pillows.
For the fashionista, however, there is a fabulous selection of unusual fabrics from Japan: blue and white kusuris, yukata cottons and bolts of shibori-dyed silk. To complement them, fine embroidery threads.
Suzuki has a small collection of aloha shirts fashioned from hand -printed silk as well as some vintage and some new kimono and obi. Fine linens, slippers and organic socks round out her sartorial offerings.
An interesting aside: Suzuki said most of the new buyers of futons are Caucasian. "There's a cross-current now, going east to west."
Location: 266 Kamehameha Ave.
Phone: (808) 934-9081
Screening in progress
At first glance, Hawaiian Arts looks like just another T-shirt shop. But in the back, open to the public, is a silk screening facility. They can be seen mixing inks, preparing screens and printing tote bags, T-shirts and T-dresses, sweatshirts, tanks and camisoles.
It's fun to watch the process and listen to the discussions on color and design application.
In the window a shirt shouts "What part of a'ole don't you understand?"
Inside are some more gentle images of honu (Hawaiian Arts' biggest seller), tako, lawai, taro and hula dancers. Also some Island humor: a cockroach with the message "Hawaiian State Bird."
Location: 284 Kamehameha Ave.
Phone: (808) 935-1860
A New Attitude
"There's a growing market for the plus-size woman. All the major designers are jumping on the bandwagon of plus-sizes because the segment is doing so well," said Karen Ortiz, owner of A New Attitude.
Her Hilo shop has specialized in plus-sizes since 1987.
Her sizes range from XL or 14 and up. Labels include Surya, GlobeTrotter, Faith and Red's Threads. The majority are imports from South America and Indonesia.
She also carries queen-size pantyhose, belts, hats and other accessories to complement the clothes.
While Ortiz used to carry a full range of clothing, from formal to casual wear, she is phasing out the more dressy looks. Casual clothing, she said, is the direction Hilo women are taking with their clothes.
Location: 72 Kapiolani St.
Phone: (808) 935-6055