By Kyle Sakamoto
Advertiser Staff Writer

Practice sessions
All practices are free and open to the public.
---
Today
9 a.m. — NFC at Ihilani
10 a.m. — AFC at Aloha Stadium
---
Tomorrow

9 a.m. — AFC at Ihilani

10 a.m. — NFC at Aloha Stadium

Tampa Bay running back Warrick Dunn and Oakland cornerback Charles Woodson are young players who likely have many more Pro Bowls ahead of them.

Dunn was named as a replacement last week for injured Dallas Cowboys running back Emmitt Smith.

This past season, Dunn recovered from a slow start to rush for 1,133 yards on 248 carries and eight touchdowns. He rushed for 635 yards over the final six weeks of the season.

"Getting here with the kind of position that I play is hard because a lot of guys had breakthrough years," Dunn said. "I came on late in the year. A lot of guys started early."

The addition of Dunn gives the Buccaneers a league-high nine players named to the Pro Bowl.

Tampa Bay finished the regular season 10-6 and lost to Philadelphia, 21-3, in an NFC wild-card matchup on Dec. 31.

"We have a lot of good players people recognize," Dunn said. "But as a team, we just haven't played well consistently."

Dunn was also named to the Pro Bowl as a rookie in 1997. He was drafted in the first round out of Florida State.

Woodson has been named to the Pro Bowl in each of his three years in the league.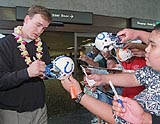 Jason Gildon, outside linebacker for the Pittsburgh Steelers, signs a football for Geoffrey Say of Pauoa Valley.

Eugene Tanner • The Honolulu Advertiser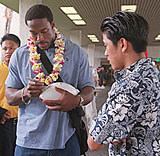 Payton Manning, quarterback for the Indianapolis Colts, signs helmets for fans on his arrival at Honolulu International Airport Monday.

Eugene Tanner • The Honolulu Advertiser

He left Michigan following his junior year after winning the Heisman Trophy. Oakland selected him in the first round.

Woodson had 76 tackles and four interceptions for a team that went 12-4 during the regular season.

Oakland lost to the Baltimore Ravens, 16-3, in the AFC Championship game on Jan. 14.

"We had a good regular season," Woodson said. "It didn't end the way we would have liked it to end. But a lot of positive things happened. We're just looking forward to next year and going all the way."

Woodson and Raiders coach Jon Gruden have played a large part in Oakland's recent success. Just four years ago, Oakland was 4-8.

Gruden, who has also been with Oakland three years, will coach the AFC team on Sunday.

"It's a good thing he came in when I came in," Woodson said. "His job seems pretty secure so I don't have to worry about changing coaches or anything like that. We have a pretty good relationship and we're just going to work on that and build on it."

Unlike his two previous Pro Bowls, Woodson is bringing a huge group of family members.

"I'm not much of a sightseer, but for this trip I brought out my mother, five of my aunts, and my brother and his wife," Woodson said. "It's really for them now. I'm here for my third time and now my family can have a great time."
Football Express
TheBus football Express Service will be provided for the Pro Bowl game at Aloha Stadium on Sunday.
The fare is $2 one way. No transfers will be given or accepted.
Also not accepted are senior citizen, disabled, monthly and other passes. The buses leave Aloha Stadium 15 minutes after the game ends.
For more details on routes and times, call TheBus at 848-5555, or visit www.thebus.org.