State softball tournament schedule
By Dennis Anderson
Advertiser Staff Writer
Will it be 'Iolani, a team with four captains who started on the last two state championship teams?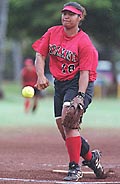 When she's not swinging a mighty powerful bat, 'Iolani's Ianeta Lei is dominating on the mound.

Advertiser library photo • Jan. 3, 2001

Or Mililani, a team that has won 40 straight games in its league and has eight starters from last year's state championship game, which it lost 1-0 on a perfect game?

How about Baldwin, a team with the pitcher who has averaged two strikeouts an inning, given up an earned run every other game, and allowed a total of 13 hits in 12 league games this season?

Maybe Kamehameha, an explosive team from the heights that is unseeded, but feared as much as anyone?

Or will one of the other eight teams, like nine-time state champion Kailua, peak at the perfect time and win the silver anniversary state high school softball championship?

The 25th Hawai'i High School Athletic Association softball tournament, sponsored by Chevron, runs tomorrow through Saturday at Rainbow Wahine Softball Stadium.

The field of 12 teams may be the most intriguing ever.

Mililani, last year's runner-up, is the No. 1 seed, even though second-seeded 'Iolani returns nearly half the lineup that won the last two championships.

"I'm very surprised, honestly," Mililani coach Mike Okimoto said. "The ILH (O'ahu's private-school league) is one above ours, power-rating wise, and they ('Iolani) are three-time league and two-time state champs."

'Iolani coach Chris Shimabukuro returned the compliment: "I think Mililani seeded No. 1 is great for Mike Okimoto and his team. Mililani is one of the best-coached softball teams in the state."

Over on Maui, they think Baldwin should have been No. 1 instead of No. 3. All-State pitcher Shannon Tabion has amazing statistics, including two 17-strikeout games this season. She whiffed 18 in last year's game to decide third place in the state.

And everybody is looking over their shoulder at Kamehameha. The Warriors, who lost the ILH title to 'Iolani in a playoff on Saturday and are unseeded, were "the powerhouse of the preseason," Okimoto notes. They won three tournaments, going 15-0, including victories over Mililani, 'Iolani and Baldwin, and outscored opponents 90-7.

New coach Ty Sing Chow plays down Kamehameha's fast start and 27-3 overall record. "The other teams are that much better now," he said.

The four seeded teams all get free passes through tomorrow's first round and play their first games on Thursday, giving their pitchers an edge in rest.

A capsule look at the state tournament field (regular-season record in parentheses):
No. 1 seed Mililani (12-0)
Although the Trojans ran the table in the public school O'ahu Interscholastic Association for the third year in a row, coach Mike Okimoto said, "We struggled in the beginning; we had to come back to win several games. I was kind of worried, but now I look at it as a positive. We know we have to stay in the game for seven innings."
Sophomore Miki Asamura has emerged as Mililani's best pitcher, surpassing returning all-stater Johnna Rowland, who has had to deal with nagging injuries.
Asamura is 5-feet tall, not the prototype pitcher, but "there is a lot of dynamite in that little girl" and she has remarkable composure, Okimoto said.
Adrienne Kasaoka, moved from left field to first base, leads the team in RBIs with nine and "likes the challenge of batting fourth," Okimoto said. Another run-producer has been long-ball hitter Tiari Keliinoi, whom Okimoto said has been making extraordinary plays at short.
Other returning starters from last year's championship game are sophomore B.J. Shimamoto, who moved from first base to center field; catcher Anuhea Diamond; right fielder Jenna Rowland; second baseman Karyna Wilkerson; and Johnna Rowland, who plays third base when Asamura is pitching and vice versa.
Only two starters, Diamond and Keliinoi, are seniors.
No. 2 seed 'Iolani (13-2)
Captains Ianeta Lei (pitcher), Stacey Higa (right field), Noelle Izumi (shortstop) and Amy Taniguchi (center field) started on the last two state championship teams, though Lei played as a designated hitter and left fielder.
With the departure of two-time state Pitcher of the Year Mitzi Ing to Fresno State, Lei has stepped in as the No. 1 pitcher and continued to swing a powerful bat. She was state position Player of the Year in 2000, when she batted .500, drove in 20 runs and scored 20.
Coach Chris Shimabukuro said, "I feel very good about this team. It's not as talented as the last two years, but this team · works very hard and is very focused as far as making the most of the opportunities it has."
No. 3 seed Baldwin (12-0)
Besides every-game pitcher Shannon Tabion (0.45 ERA, 14 strikeouts per game, seven shutouts), Baldwin has the only Hawai'i player who has already signed a Division I scholarship offer in shortstop Kaleo Eldredge, who is headed to California-Berkeley.
University of Hawai'i coach Bob Coolen said Eldredge is "head and shoulders above · especially in gamesmanship. All that experience playing on the Mainland every summer has given her so much confidence."
Catcher Ashlyn Russell, a transfer from Maui High, has a .600 slugging average and .467 batting average.
No. 4 seed Hilo (9-0)
The last time the Vikings won the Big Island championship was in 1978, and they went on to win their only state title that year, too. "We hope to come there and make a statement," coach Walter Carvalho Jr. said.
Hilo has been a big hitting team in the BIIF, led by pitcher Cassie Kahana, shortstop Haunani Hassenritter, leadoff hitter Pita Hanohano and power-hitting first baseman Josanda Napeahi.
Diana Nakoa, all-star catcher for 2000 league champion Waiakea, transferred to Hilo and brought a winning attitude.
Kamehameha (12-3)
Leo Sing Chow has the most feared fastball in the state and the Warriors collectively swing the most feared bats. "We've been kind of down offensively," coach Ty Sing Chow (Leo's uncle) said. "We need to be more productive at the plate. If we play our best game for four days, I think it will be good for us."
Talia Ruth and Brandi Peiler are in the heart of the Warriors batting order.
Waimea (11-1)
Junior Albette Nawai pitched 10 of 12 games and "has come a long way" from last year, coach Pat Baniaga said. "Pitching has kept us in it."
All-State first baseman Erin Castillo was a sensational hitter in last year's tournament, but hasn't reached the same level this season.
Kailua (11-2)
The Surfriders' secret weapon is relief pitcher Danielle Young, whom coach Bernard Victor dubbed "SuperLady" after she allowed two runs in 18-plus innings over three straight days in the OIA Tournament.
All-star Shelly Featheran will start tomorrow. Kailua has played in every state tournament, and won nine.
Kaimuki(11-2)
The Bulldogs are in the states for the first time, and are trying not to be awed. Coach Lene Tausaga said, "If we play our game and don't beat ourselves, we'll be all right."
Senior pitcher Jamie Reyes was at her competitive best in the third-place OIA game when she got out of bases-loaded trouble the last two innings without giving up any runs.
Left-handed shortstop Tyleen Tausaga wields Kaimuki's most potent bat.
Lahainaluna (9-3)
State runners-up three years ago, the Lunas are in the state tournament for the fifth year in a row under coach Earl Kukahiko.
Catcher Nicole Baraoidan, shortstop Mari Finn and first baseman Shannon Kiek, all seniors, were all-leaguers last year. Junior Shyra Smith and freshman Tiara Kukahiko share pitching.
Pearl City (10-2)
Mililani coach Chris Shimabukuro rates Chargers senior Loihi McKeague as one of the three best pitchers in the state. She also is a powerful offensive presence, and gets support and leadership from shortstop Cheryl Villarmia.
"They are the keys to our success," Chargers coach Cheyenne Thompson said.
Leilehua (8-5)
Key players for the Mules, coach Mary Ann Christian said, are senior first baseman Sherris Richards, a .560 regular-season batter, and two freshmen — center fielder Pikake Nutter-Gaudet and pitcher Alexis San Nicolas.
Waiakea (7-2)
Pitcher-infielder Myra Amisone was Big Island Player of the Year last season. The other pitcher is Chevis Campbell, and coach Tammy Lee, who replaced retired Wayne Abalos, is counting on strong tournaments from freshman outfielder Amale Seki and sophomore DH Chelsea Rice.
State softball tournament schedule
Chevron State Softball Championships
Hawai'i High School Athletic Association's 25th annual tournament
At Rainbow Wahine Softball Stadium
Tomorrow Waimea vs. Kailua, 2:30 p.m.
Waiakea vs. Kaimuko, 4 p.m.
Kamehameha vs. Lahainaluna, 5:30 p.m.
Pearl City vs. Leilehua, 7 p.m.
Thursday
(Seeds in parentheses)
Losers of Waimea-Kailua and Kamehameha-Lahainaluna, 1 p.m.
Hilo (4) vs. winner of Kamehameha-Lahainaluna, 2:30 p.m.
Baldwin (3) vs. winner of Pearl City-Leilehua, 4 p.m.
'Iolani (2) vs. winner of Waiakea-Kaimuki, 5:30 p.m.
Mililani (1) vs. winner of Waimea-Kailua, 7 p.m.
Friday
Consolation bracket games, 1, 2:30, 4 p.m. (losers out)
Championship semifinals, 5:30 and 7 p.m.
Saturday
Consolation championship, 2:30 p.m.
Fifth-place game, 4 p.m.
Third-place game, 5:30 p.m.
Championship game, 7 p.m.
Admission: $7 adults, $5 students (cash only).
Parking: $3
Results on the web: www.sportsHIgh.com
Championship game TV: Tape-delay, Sunday, 4:30 and 10:30 p.m. on KFVE (channel 5)