By Jolie Jean Cotton

"WILLIE'S WALLABIES" by Suzanne Kita, illustrated by Lambert Davis, Island Heritage, $10.95, ages 5-8.
What do wallabies have to do with Hawai'i? In an introduction, the author explains that this book was inspired by the true story of two Australian wallabies that once escaped from a private zoo and colonized a remote valley on one of the Hawaiian Islands. The location of the valley remains a secret, to protect the animals.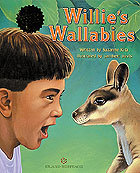 Young Willie likes to catch creatures in his "critter cage" to observe for a while before releasing them. He searches the valley behind his grandmother's house for something new. Willie camouflages himself, waits and watches:
"Suddenly, what looked like an enormous rabbit leaped boldly into the clearing near his hiding spot. Willie's eyes grew wide and his jaw dropped. He held his breath and froze. He was staring at the strangest creature he had ever seen - and it was nibbling on the leaves of the very bush he was hiding in!"
Captivated, Willie begins to research the marsupials to learn all he can about them. He imagines becoming rich and famous by turning this valley into a tourist attraction, with a circus, acrobats, wallaby acts and sideshows. Through a zoologist who arrives to study the endangered species, Willie realizes the importance of keeping his discovery a secret to preserve the wallaby colony. (Of course, most Islanders know just where this famous colony is, in a valley on O'ahu, but we'll play along.)
With acrylic paint on watercolor paper, Hawai'i-born illustrator Lambert Davis mixes a soothing palette of browns and greens. Davis' characters are so lifelike, you could reach out and touch them.
The author, Suzanne Kita, also wrote the best-selling children's book "Three Whales Who Won the Heart of the World."
"THE LITTLEST PANIOLO" by Ellie Crowe, with photos by Barbara KaMille, Island Heritage, $7.95, ages 3-6.
Author Ellie Crowe packs a great deal of information about Hawaiian cowboys into her gracefully written story set in Waimea on the Big Island.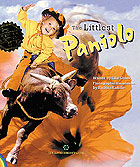 Little Mika dons his knee-high boots, star-studded chaps and a cowboy hat adorned with flowers and sets off for the rodeo. Along the way, he discovers a homeless puppy, a lost lamb and a stray calf. Mika brings the three animals with him to Parker Ranch in hopes of finding their mothers. The excitement begins the moment they arrive at the big event:
"Suddenly there's a loud, clomping sound. A terrifying, roaring sound. A wild, galloping, snorting sound. A big bull is running across the fields - and he is running right at them. He has a crazy look in his eyes, and his long horns are pointed at the red hibiscus on Mika's hat."
Armed with his rawhide lasso, Mika leaps into action to save the day. The puppy, lamb and calf are safe and sound by the story's satisfying close, but not before a few surprising plot twists and turns.
Kamille's full-color photographs of angelic toddlers are irresistible. Author Ellie Crowe says capturing the images was entertaining. "We had three toddlers, six parents, a puppy, a lamb, a calf, three ponies, six curious horses, various visiting mongrels and creeping vog" at the photo shoot, she recalled.
A solid bibliography and an overview of the history of Hawaiian cowboys is included.
"ADVENTURE IN HAWAII TUTU AND ME SERIES" by Sandy Gibson, Kerry Rodriguez illustrator, 1st Books Library, $5.95, ages 5-10.
Hawai'i author Sandy Gibson has published two online magical adventure books for keiki, available through the 1st Books Library. Free previews of the first two installments, "The Rainbow Caves" and "The Triplets and Kealohi the Dolphin" can be found at the Web site 1stbooks.com. The stories feature Tutu, a Hawaiian grandmother, and her grandson. The books can be downloaded from the site. Gibson has three new titles planned for the series.