By Andrew Gomes
Advertiser Staff Writer

Japanese specialty retailer Shirokiya will close its Pearlridge Center store next month, ending a 20-year presence for the popular Hawai'i institution at the Pearl City shopping center.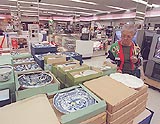 Marion Keopuhiwa of Honolulu looks over the ceramics display at Shirokiya's Pearlridge store, which will close when its lease expires at the end of March.

Richard Ambo • The Honolulu Advertiser

The closing is a hard but somewhat expected blow for the Pearlridge store's 50 employees and thousands of faithful customers. Parent company Tokyu Department Store Co. announced 13 months ago that it planned to sell its three Hawai'i stores, but there haven't been any buyers.

The store's lease expires at the end of March. Rather than try to extend the lease, the store will close March 18.

"We want to thank our customers for being loyal to us, and we hope that they will continue to be our customers at the Ala Moana store," said Walter Watanabe, Shirokiya assistant manager.

Employees will be given the option of moving to the Ala Moana store, Watanabe said. But he noted that the future of the Ala Moana store and the one on Maui at Ka'ahumanu Center remains uncertain until Tokyu completes a "restructuring" plan for Shirokiya.

Watanabe would not elaborate on what that might entail, but said it would involve at least the Ala Moana store, where Shirokiya has a lease that expires in 2003 on 40,000 square feet of space.

Dwight Yoshimura, general manager of Ala Moana Center, said discussions regarding Shirokiya are ongoing with Tokyu, but that he could not elaborate.

Such discussions may be a positive sign that Tokyu will in some way preserve the unique retailer and the cultural link it represents to Japan.

Shirokiya, founded by Hikotaro Omura in 1662 as a notions store in what is now Tokyo, was acquired in 1958 by Tokyu Department Store, a subsidiary of the 500-company real estate and transportation conglomerate Tokyu Group. Tokyu brought the retailer to Hawai'i in 1959 as a charter tenant at Ala Moana Center, and expanded to Kahului in 1973 and Pearl City in 1981.

Recently, in an effort to restructure operations and eliminate debt as it operates in a struggling Japanese economy, Tokyu closed its stores in Tokyo, Hong Kong, Singapore, Thailand and the U.S. Mainland. In January 2000 the company announced plans to sell its last remaining stores, the ones in Hawai'i.

The announcement shocked Hawai'i residents and moved high-ranking state officials to write letters to Tokyu executives to try to save Shirokiya. But retail analysts said the store leases offered little value, and therefore little hope for a potential buyer.

Late last year, Shirokiya overhauled its Ala Moana store, refocusing on high-end Japanese merchandise and trimming expenses. Sales have improved and losses fallen, but Shirokiya remains in the red, according to Watanabe.

"I certainly would hate to see them go entirely, because of the products that they carry," said Joanne Ninomiya, a Shirokiya loyalist who organized a customer petition urging Tokyu to reconsider.

Ninomiya is president of JN Productions, a video translation company that provides programming for Japanese-language television station KIKU.

She said it's sad that Shirokiya will close at Pearlridge, but its Ala Moana store is not far away. "They still have some breathing space," she said.

Pearlridge officials did not return phone calls yesterday on what plans might be for the 19,000-square-foot, mall-level space in the center's "Uptown" phase next to Liberty House.

Scott Crockford, real property vice president for Ka'ahumanu Center general partner Maui Land & Pineapple Co., said he hasn't heard from Shirokiya representatives regarding the store's lease, which runs for more than 10 years.