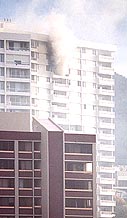 A fire gutted a condominium apartment at Prospect Towers in Makiki yesterday. That fire and another high-rise fire in Waikiki on Sunday rekindled the debate over whether O'ahu's older buildings should be retrofitted with sprinklers. See story.

Eugene Tanner • The Honolulu Advertiser
Posted at 12:06 p.m., February 6, 2001
BREAKING NEWS
School-by-school SAT scores released
The state Department of Education today released school-by-school 2000 Stanford Achievement Test scores for grades 3, 5, 8 and 10.

See the scores for your child's school using our searchable database.


Posted at 11:24 a.m., February 6, 2001
Driver in critical condition after three-car crash
A three-vehicle accident about 9 a.m. today on Kapaa Quarry Road in Kailua left one driver hospitalized in critical condition, police said. The other two drivers were shaken up but refused treatment at the scene.



House may stall special education funding
Angry lawmakers in the state House may stall an emergency measure to pump another $137 million into special education services as part of a strategy to control the soaring costs of the Felix consent decree.

Ex-officer may be charged in traffic death
Former police officer Clyde Arakawa may be charged with reckless manslaughter in the car crash last October that killed a young woman, the prosecutor's office said in court papers.

Shirokiya to close Pearlridge store
Japanese specialty retailer Shirokiya will close its Pearlridge Center store next month, ending a 20-year presence for the popular Hawai'i institution at the Pearl City shopping center.

.
New Military Briefing section
In our new section you'll find news about Hawai'i's service-people and the issues affecting them and their families. Check out Military Update, a column by an expert on military benefits, plus a map showing deployments of Hawai'i-based units.
Live chat with UH coaches
HonoluluAdvertiser.com will have continuous coverage of the NCAA's letter of intent day tomorrow. We will have pictures of high school football players signing letters of intent, updates of University of Hawai'i signings and, starting at 7 p.m., a live chat with UH coaches to discuss recruiting. Register for our live chat, then return tomorrow night for our coaches' conversation moderated by Advertiser sports writer Stephen Tsai.