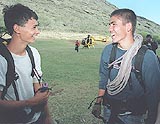 Hikers Christopher Lee, left, and Alan Morrow were in good spirits yesterday after getting stuck on a ridge above Kuli'ou'ou and spending Sunday night there before being rescued. See story.

Gregory Yamamoto • The Honolulu Advertiser
Newspaper sale court order
On Nov. 9, a federal judge approved the sale of the Honolulu Star-Bulletin and brought an end to an anti-trust lawsuit filed by the state attorney general against Gannett Pacific Corp., which operates The Honolulu Advertiser. Download order approving the sale and the sales agreement. (Adobe Reader required, 2.3 Mb.)
House may stall special education funding
Angry lawmakers in the state House may stall an emergency measure to pump another $137 million into special education services as part of a strategy to control the soaring costs of the Felix consent decree.

Ex-officer may be charged in traffic death
Former police officer Clyde Arakawa may be charged with reckless manslaughter in the car crash last October that killed a young woman, the prosecutor's office said in court papers.

It only seems like it's so cold
It may seem like Arctic weather to longtime Hawai'i residents, but weather forecasters say the chill you feel is not particularly extraordinary.

Restaurant in Kalihi pau, but owner isn't
Helena's Hawaiian Food at 1364 North King St. is no more, but the 83-year-old owner of the popular hole-in-the-wall lunch and dinner stop in Kalihi isn't ready to hang up her apron just yet.