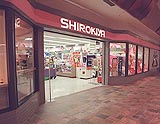 When Shirokiya closes this Pearlridge Center store on March 18, its remaining Hawai'i stores will be at Ala Moana Center and Ka'ahumanu Center on Maui.

Richard Ambo • The Honolulu Advertiser
Shirokiya to close Pearlridge store
Japanese specialty retailer Shirokiya will close its Pearlridge Center store next month, ending a 20-year presence for the popular Hawai'i institution at the Pearl City shopping center.

Developer blames bank for bankruptcy filing
Developer Peter Savio, who filed for personal bankruptcy protection Friday, said yesterday that he did so to block a "rogue lender" from evicting his profitable company from its offices.