Accessory crafted from 'secret recipe'
Fashion calendar
By Paula Rath
Advertiser Staff Writer
In "Sex and the City," Sarah Jessica Parker wore a silk one pinned to a scarf at her neck.

A mix of Island and Mainland blossoms for a red-white-and-blue bouquet ($25 and up) is created by Forever Hawaiian Creations. All flower accessories are from Riches Kahala. Price range: $18 to $78.

Gregory Yamamoto • The Honolulu Advertiser

Those outrageous cheerleaders in "Sugar and Spice" had bunches of them tied at their wrists for the homecoming game.

On the cover of "W" magazine, Hilary Swank wore an enamel one on a ribbon with a Louis Vuitton wool bra.

The current "It" accessory is the faux flower in all its glorious forms.

It's a trend that works for any age, from infant to tutu — and any budget.

In Hawai'i, where flowers are always in fashion, retailers are stocking their stores with a veritable hot house of blooms in silk, suede, enamel, cotton, satin, plastic and even rubber.

And we've got our own mini-trend going: those fabric-covered plumeria picks that you're seeing behind young girls' ears and buying at craft fairs and elsewhere (see accompanying story).

Of course, artificial flowers can't possibly replace a fresh lei or orchid adornment, but they can add style to just about any outfit.

Ches Spinelli, a stylist at Bottega Antoine, has long been a fan of fabric flowers. She has found them at Emporio Armani, Rafael, Chanel and Harrod's in London. Her favorites, however, are vintage flowers she discovered in little antique shops in Santa Monica, Calif.

Spinelli, who has an enviable personal style, wears her flowers "wherever it looks best on the garment," she said. This includes, but is not limited to, her lapel, at her neck, near her shoulder, on a hat or to dress up a handbag.

Ideas for wearing faux flowers

Of course, in Hawai'i we are luckier than most because we wear real flowers in the form of lei. But if your date forgets that Friday lei or your favorite flower is out of season, faux flowers can be an appropriate alternative.

Here are some ways to wear a flower, faux or real:
Tied at the wrist with a ribbon
Pinned at the back of a low-back dress where the fabric meets the skin
Placed on a spaghetti strap, either where the strap meets the body of the dress, or right on top of the shoulder
With a low- or scoop-neck mu'umu'u, tied at the neck with a ribbon or strip of leather (a live exotic orchid worn like this would outshine even Hilary Swank)
Glued to the top of a sandal or pump
Pinned to a handbag to help the color and/or style of the bag tie in better with the rest of the ensemble
On a lauhala hat, at the side, front or back

Another flower lover is Elisa Junge, a member of The Honolulu Advertiser's fashion forum, a group of young people who advise us on fashion trends and help with fashion stories.

Junge finds them at the Saks outlet at Waikele and on the Internet through eBay. "Unfortunately, the prices have gone up since they've become so popular," Junge said.

At Nine West in Ala Moana, there are fabric flower pins, chokers and bracelets, and they're selling fast. Colors range from vivid jewel tones to pale pastels to the ever-popular black and white.

At bebe and Rafael in Ala Moana, sales staffs reported that all their faux flowers are already sold out, a sign of how fast this fashion statement is moving through the Islands.

Naomi Low, owner of the Chelsea boutiques in Manoa and Waikiki, just took delivery of tank tops with rhinestone straps featuring a single silk blossom that can either be pinned or stuck on with Velcro. These glitzy blooms have rhinestones at their centers.

Coco Chanel, back in the 1940s, was perhaps the first modern fashion icon to launch a trend with a single flower, her signature camellia. She was often seen with one on her lapel.

"They're still a basic best seller," Joyce Okano Reed, vice president of Chanel Hawai'i, said of the camellia pins. "This past year there has been a big increase in demand for camellias."

While Coco Chanel's original camellia was made of silk ponge (a feather-light pressed silk), the company now has them in rubber, plastic, leather, cotton pique and satin.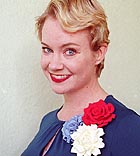 Flower lover Elisa Junge finds her faux flowers at the Saks outlet at Waikele and on the Internet through eBay.

Gregory Yamamoto • The Honolulu Advertiser

Flowers at Neiman Marcus are from Dulken & Derrick and Guilet. They range from small and delicate to big and bold in red, pink, purple, off-white and black. They are Mainland blooms: camellias, roses and peonies, and they're fabricated with sequins, leather and even animal prints. Their supply has nearly sold out, but another shipment is arriving later this month.

Chocolates for Breakfast in Ward Warehouse has a few big, bold fabric flowers in orange and lavender.

Like Chelsea, Forever 21 has flower pins, but they're attached to T-shirts and blouses and are not sold separately.

Lo Kaimuloa, owner of Riches Kahala, has just returned from a buying trip to New York where, she exclaimed, "Absolutely everything is flowers!"

Among her purchases: the pins that Sarah Jessica Parker wears, crafted by a design firm called Karin's Garden.

She is also bringing in hot designer Gerard Yosca's enamel flower earrings. Kaimuloa sees enamel as the next incarnation in materials for flowers.

The trend, Kaimuloa said, "is to mix the offbeat with the girlie-girl look. That's the look right now, with nothing matching."

Sometimes all it takes to revive a trend is a single celebrity adopting a certain style or accessory. In this case, it seems, we can credit Sarah Jessica Parker.