By Paula Rath
Advertiser Staff Writer
All in the 'Ohana

Joyce Arizumi designs clothes for wheelchair users.

2001 Narcissus Festival Fashion Show with featured designers Sig Zane, Princess Kaiulani Fashions, Local Motion, Kahala Sportswear, Joyce Arizumi and Sandra Chan of Cheongsam Charm
9 a.m.-3 p.m., boutique sales and silent auction
11:30 a.m., luncheon and fashion show
Feb. 11, Hilton Hawaiian Village Coral Ballroom
Tickets: $35
Reservations: Chinese Chamber of Commerce, 533-3181

Not many fashion designers think about what it takes to design for the physically disabled. But Joyce Arizumi does. She's in a wheelchair.

Arizumi had a 15-year career in the garment industry in both design and sales before a near-fatal auto accident in 1989 left her with a spinal cord injury that caused paralysis from her waist down.

When Ban Chan, coordinator of the Narcissus Festival, asked Arizumi to be a guest designer in the festival's annual fashion show (see details on page C3), and create easy-wear designs meant for disabled people, Arizumi accepted the challenge.

"The whole idea of clothing for the disabled is that it's almost like a made-to-order situation because each person has different needs," Arizumi said. "While some can dress themselves, others require the help of a caregiver."

There are subtle changes in the styling of Arizumi's garments that make them easier to wear in a wheelchair.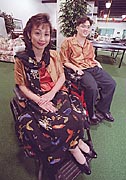 Among the models wearing Arizumi's designs during the Narcissus Festival fashion show will be Mimi Matsumori of Honolulu, left, who works at All Star Sports, and Garrick Lau of Honolulu, who is studying law and business at the University of Hawai'i at Manoa.

Gregory Yamamoto • The Honolulu Advertiser

The tops have "fake fronts," with buttons on shirts and blouses that actually hide Velcro closings. Crotches in the pants are longer, allowing for more comfort and easier dressing. Pants have either elastic waists or drawstrings.

Another thoughtful touch is that the fronts of shirts and blouses are shorter, since they often bunch up from continued sitting. On the other hand, the backs are longer because they hike up when transferring, or being lifted, from a car or airplane seat to a wheelchair.

Arizumi's collection of evening attire for the show has an Asian flair. Fabrics are jacquards, brocades and Thai silks. Her menswear is predominately red, black and gold, while the womenswear adds pizzazz with reds and hot pink. There are plenty of mandarin collars, frog closures and other Asian design details.

Arizumi's designs will not be available in any retail outlets, as she created them specifically for the fashion show.

Her goal was to create more awareness of the changes that need to be made for the appearance, comfort and ease in dressing required by those who are physically disabled. Arizumi noted that "looking appropriate and well-dressed is an esteem builder."