Advertiser Staff
OIA basketball tournament schedules

High school standings

High-octane offenses won the inside lanes for the O'ahu Interscholastic Association boys basketball derby.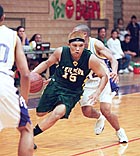 Joshua Jumawan helped undefeated Leilehua average 73.4 points per game in OIA Western Division play.

Gregory Yamamoto • The Honolulu Advertiser

Kalaheo and Leilehua, teams that scored more than 70 points per game in winning their divisional championships, are the No. 1 seeds in the OIA Tournament, which begins Thursday.

Kalaheo, Leilehua and the No. 2 seeds, Pearl City and Kaimuki, speed directly into Friday's quarterfinals, where they will meet the surviving four teams from Thursday's opening round.

Eastern champion Kalaheo averaged 78 points per game and Western winner Leilehua 73.4 as both went unbeaten in divisional play. Kalaheo has been ranked No. 1 in the state all season in the HawaiiSport sNetwork.com poll of coaches and media. Leilehua is ranked No. 2 in the current poll.

Defending champion Roosevelt did not qualify for the tournament, losing out on a tiebreaker that compared head-to-head competition after four teams tied for fifth place in the Eastern Division. Six teams from each division are in the tournament.

Kalaheo won eight of 10 OIA titles in the 1990s and has won 11 total under coach Pete Smith since 1984.

Friday's quarterfinal winners all qualify for the state tournament, Feb. 21-24, on O'ahu. But before that, they will meet in OIA semifinal games on Feb. 14.

The OIA championship, third-place and junior varsity championship games will be played at Blaisdell Arena on Feb. 15, and will be televised live on Oceanic Cable channel 16.