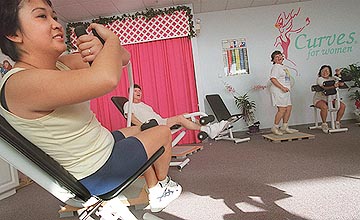 Meredith Duarte, left, works on her oblique muscles. Background, from left, Sue Brown, Marty Elson and Kristine Newmann work on other areas.

Bruce Asato • The Honolulu Advertiser

By Vicki Viotti
Advertiser Staff Writer
There must be reasons why Curves for Women has mushroomed into a fitness-center network that, after only five years, boasts 1,500 locations, including one new arrival in Hawai'i.
Here are two: no time, and no stomach for working out in front of the opposite gender. Those, said company executive Jane Manley, are common exercise bailouts for women.
"Women like a place they can come to that's private," Manley said. "Women will do something if it's fun, fast and effective."
Manley, vice president of operations for the Paris, Texas-based Curves chain, was in Hawai'i recently for the opening of the newest branch near Times Supermarket at the Royal Kunia Shopping Center. What sets this group apart is its offering of 30-minute workouts on a circuit of hydraulic exercise machines and its women-only membership policy.
The center is owned and managed by Sharon Rolirad, a Makakilo resident who also has hopes of opening additional Curves sites in Waimalu and Kapolei.
Membership costs $29 monthly, and workout hours are 8-10 a.m. and 3:30-7:30 p.m. Women make three laps around the circuit, which comprises 18 stations — exercise machines interspersed with recovery jogging platforms. Taped music plays, and the tape cues the women when to change stations.
"After that, they do some flexing exercises, and that completes their 30 minutes. It's a cardio and strength-training workout that is quite effective," Rolirad said.
Ruby Ganitano of Village Park said she joined Curves for Women to have a place where she could exercise without the social stress of mixed-gender gyms.
"What caught my eye was the 'for women' part: 'Curves for Women,' " Ganitano said.
Mackinley Emmons and Ron Hetzler, two exercise physiologists who are not affiliated with the gym, agreed that, although workouts ideally are tailored to an individual's needs, most women would benefit from a standard circuit regimen like Curves' that trains the same basic muscle groups.
Emmons' concern about all commercial gyms is that members frequently don't consult a doctor before starting to exercise and may not take existing injuries and other conditions into account when working out. Also, she said, some women may be surprised by training results.
"For some people, that doesn't mean that they slim down; they may bulk up," said Emmons, an exercise physiologist with Straub.
Hetzler, an associate professor in the University of Hawai'i's kinesiology and leisure science program, said that hydraulic machines, like those at Curves, are helpful in designing an efficient workout because they train opposing muscle groups simultaneously, something that most weight-based machines don't do. For example, he said, a hydraulic biceps curl machine trains the biceps as the arm curls up and then the triceps muscle on the arm's opposite side as the user pushes the lever back down.
The disadvantage, he said, is that the hydraulic action produces only one kind of muscle contraction: concentric contractions, which shorten the muscle. Weight machines also produce eccentric contractions, which lengthen the muscle. Although eccentric contractions create more muscle soreness, Hetzler said, they also build strength more effectively than what hydraulics can achieve.
The bottom line: A quickie circuit-training session may not create the bulky look, but most women don't want that, anyway.
"It may not meet everybody's goals," Hetzler said. "But for most people, if you work out the major muscle groups three times a week, it's going to get you fit and make an improvement in your overall health."