Today in

This sugar cookie dough ready for rolling out without refrigeration
The ABCs of enjoying wine
Healthy foods to be designed for women
Treat your loved ones to a Valentine's party
Veggies rule eggplant dish
Jambalaya recipe with mushrooms
Tropical Tiramisu dessert from Outrigger Waikiki hotel
Culinary Calendar

By Joan Namkoong
Advertiser Food Editor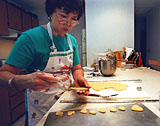 Gail Ouchi has a lot of experience baking cookies and likes to share tips with others.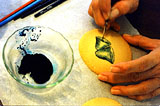 When decorating cookies, Ouchi advises using a small brush to apply the food coloring.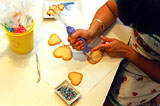 To make lines when icing, lift the icing tip across the surface rather than drag it across.

Photos by Deborah Booker • The Honolulu Advertiser

You can make picture-perfect cookies at home. Gail Ouchi does it all the time.

"It just takes practice," said the 'Aina Haina cookie baker. "It's really a lot of fun."

Prettily decorated heart cookies in pastel colors and a trio of "well-dressed" teddy bear cookies were fine examples of Ouchi's talent. Not to mention the good-tasting cookie that could make any heart go pitter-patter for Valentine's Day.

A retired school teacher, Ouchi just simply loves to cook and bake. And she likes to share her techniques with others: Advertiser fashion writer Paula Rath met up with Ouchi while shopping at Williams-Sonoma one day, and Rath has been baking perfect cookies ever since.

"My interest in baking started when I was 15," recalled Ouchi. "Late one night, I wanted to eat a custard pie. It was 1 a.m., and I didn't want to wake up my dad and I didn't drive. I looked around and had all the ingredients, so I made it. It wasn't perfect but it was pretty good."

From then on, Ouchi's interest in cooking developed, and she paid attention to her mom in the kitchen. As an elementary school teacher at Kanoelani School in Waipahu, she worked cooking into her lesson plans. "Cooking is a wonderful way to combine math skills with language arts, because they have to measure and follow directions," Ouchi said. "They learn the importance of following directions carefully."

Other food-related lessons were part of her classroom. "I would have the students guess what kind of food grew from seeds started on Monday that would be edible by Friday. On Friday, I'd cook up a stir-fry with bean sprouts. Or I'd have students read food ads and see what they could buy with $2."

After more than three decades as a teacher, Ouchi is now retired but volunteers at Kanoelani School, applying her artistic talents and teaching enthusiasm to creating fanciful reading niches in the school library for kids to enjoy. She now has more time to bake and cook and shares many of her treats with friends at New Hope Church at Farrington School.

Baking and desserts are high on Ouchi's cooking list but she also prepares Japanese and Chinese dishes. "I do all kinds of things; I like to try new recipes. I follow them to a 'T,' then I improvise."

Ouchi is not only creative, she's organized. Recipes are in her computer, printed out on 5 -by-8 inch card stock with color drawings and laminated. "It makes it easier to use the recipes, and I can wipe them off when they get dirty," she said. "I made two extra sets for my daughters."

Ouchi has also taken the time to multiply recipes she uses frequently on her cards. For her chocolate chip cookie recipe, the card gives measurements for a single batch, 1 and two batches, so she doesn't have to calculate amounts when she's increasing the batch. "If you're baking in volume, it's worth having several sets of measuring cups and spoons and an extra mixer bowl," said Ouchi, who once baked 200 dozen cookies in a day.

Her favorite kitchen appliance is her mixer. "I love my Kitchen Aid," said Ouchi, as the machine creamed butter and sugar with a soft whir atop a rolling cart that she stores in a closet. "Unless it's something traditional like gau (Chinese New Year rice cake) where the flavor is affected, I go for convenience and use my Kitchen Aid."

But other than the mixer, Ouchi sticks to basic techniques and methods when it comes to cookie baking. She's learned by trial and error and has never taken formal lessons. And she likes to share what she knows with others in small group lessons or as she does with Advertiser readers today. Following are some tips from Ouchi:

Measuring and mixing
When a recipe calls for Crisco and egg, and you need to use a measuring cup, crack your egg into the measuring cup first. Pour out the egg, then measure the Crisco; Crisco will slide out easily.
Do not over-mix cookie dough ingredients; over-mixing produces tough cookies. Also, handle dough as little as possible with the least amount of flour necessary to prevent sticking.
Rolling out the dough
For even thickness when rolling out cookies, use two strips of wood measuring about 1/2 by 1/4 by 20 inches. The thickness of the wood will determine the thickness of the cookies. Cover strips of wood with foil. Place strips of wood on either side of pastry board or counter and cookie dough in center. Roll out dough with ends of rolling pin on top of strips of wood. Roll out until dough no longer flattens.
When you're doing cut-out cookies, line your pastry board with a sheet of parchment paper, folding the ends under your board. This minimizes the amount of flour needed for rolling out the dough, yet the dough releases easily from the parchment. But don't use the same side again for the next batch; turn it over and use the other side. Sticky parchment paper will cause dough to stick.
Ouchi does not use parchment paper on her cookie sheets. "Sometimes parchment paper will slip and slide when you're handling the cookie sheets," she said.
You can roll out cookie dough onto parchment paper, cut out shapes, remove scraps and transfer parchment to cookie sheet. Be sure to leave ample space around the shapes when you cut them out, advised Ouchi.
Cut out small cookie shapes in between larger ones where there is extra dough. "I like to bake these and leave them plain for folks who don't like sugary icing," Ouchi said.
Avoid rerolling dough too many times; cookies will get tougher.
Thin, flexible spatulas work best when transferring cut-out shapes from pastry board to cookie sheet.
Use a bamboo skewer or chopstick to clean up edges or to emphasize indentations in cookie shapes.
Decorating cookies
Fill icing bags with tips attached; stand them up in a jar or tall glass until ready to use.
When filling a bag with icing, always pack it in to avoid air spaces. Air spaces cause lines to break when you're piping out designs.
Practice makes perfect when you're icing cookies. When making lines, start and then lift icing tip across the surface rather than drag it across.
Apply food coloring with small brushes to paint designs on cookies. This is an easy way to decorate and personalize cookies without adding calories.
Baking
Bake cookies at 325 degrees instead of 350 degrees. "I find the heat is more controlled. It may take a little longer, but you get a better crunch and crisper cookies," Ouchi said. If your recipe calls for 350 degrees but the cookies darken too much, lower the heat to 325 degrees.
Always turn cookie sheets halfway through the baking time. They should go from top to bottom and front to back for more even baking.
Cookie-cutter care
Most cookie cutters are made of tin, and tin rusts. To minimize rust and prolong cookie-cutter life, wash cookie cutters well, towel-dry and then place them on a cookie sheet in a warm oven to dry completely. Store in an airtight container.