Market comparison
By Joan Namkoong
Advertiser Food Editor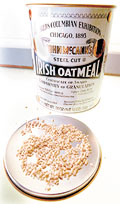 One of the top food trends this year will be foods designed for women. Look for soy, calcium, folic acid and iron linked with B vitamins, omega 3 fatty acids, flaxseed and oats in products such as Quaker Oats Nutrition for Women instant oatmeal, Heart and Soy muffin, Great Awakenings soy milk and Harmony cereal. Energy bar Luna was developed by the makers of Clif bar to be lower in calories in response to requests from women. I haven't spotted these products in supermarkets yet, but a sample of Harmony cereal proved to be quite tasty and crunchy.
Mrs. Fields in supermarkets
Mrs. Fields cookies are now available in supermarkets. Once only found at shopping malls, then sometimes available in freezer cases ready to bake, Mrs. Fields cookies are now packaged in bright red boxes. Four popular varieties are available: semi-sweet chocolate chip, which chunk macadamia, milk chocolate chip and oatmeal raisin nut.
Betty Crocker cheesecake
Cheesecake is Betty Crocker's newest mix offering. Add melted butter to the graham cracker crumbs for the crust; add cream cheese, milk and eggs to the packet of mix, then bake 35 minutes in a pie or cake pan for a pretty decent-tasting cheesecake. The new mixes should be reaching supermarkets soon.
New names for simple meals
Companies are tuned in to "family-friendly positioning" with food product names these days. Take Green Giant, which has just introduced a variety of Complete Skillet Meals, frozen components that combine to make a meal in 10 minutes. There's "Please Pass the Chicken Alfredo," "Gotta Have Chicken Teriyaki," "Noodelicious chicken Lo Mein," "Gimme Gimme Garlic Chicken Pasta" and "Hungry for Sweet & Sour Chicken With Rice," to name several. Each 32-ounce package of meat, vegetables and starch that you prepare on the stove or in the microwave serves 4. Look for them in the freezer case.