By Kaui Philpotts
Special to The Advertiser
Oh, oh. Feb. 14 is coming.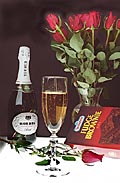 Stumped on Valentine's Day ideas? Champagne, roses and brownies can help make it memorable for the special people in your life.

Deborah Booker • The Honolulu Advertiser

This is the day when all the flowers and balloons start arriving at the office. But our love isn't limited to just one person in our life. There are lots of people we care about. So why not invite some of them over?

Valentine's Day this year falls on a Wednesday — hump day, as they say. You only have a week, so forget the big party unless you are an experienced and fearless party giver. Get on the phone or fax right now and send your invitations.

The table

Think red, white and maybe pink, and start going through your linen closet and kitchen shelves. A centerpiece might be a glass fishbowl filled with water and rose heads nipped just below the flowers, or small glass vials (Ben Franklin has inexpensive ones) filled with miniature red anthuriums running the length of the table. Tie ribbons around each one and let your guests take them home.

Inexpensive red bandannas make great napkins. Sprinkle pink or red rose petals down the middle of the table. If roses are not in your budget, look in your market for anything fresh and red — apples or red pears in a glass bowl, red and white carnations..

The cocktails

Serve chilled champagne (why not drop in a few raspberries?) with a dash of kir or chambord if you have it, red and white wine. If you've always thought rose was dreadful, think again. It could be the perfect thing for Valentine's Day.

According to Lyle Fujioka of Fujioka's Wine & Spirits in the Market City shopping center, rose has gotten a bad rap. He suggests a Billiecart-Salmon Rose ($49) as a versatile, mood-setting starter. If that's a little pricey for your pocketbook, he likes the Handley Rose from California ($25) and a great value from Australia that's dry with substance on the palate, Trevor Jones Rose ($12). All these go very nicely with Asian flavors.

No time to make pupu? Wasabi peas, edamame (boiled soy beans) and mochi crackers in pretty bowls work just fine.

I did find this love potion, however, while thumbing through a Creole cookbook written by New Orleans chef Kevin Graham. It's Graham's own twist on a traditional voodoo concoction from the 18th and 19th centuries. I can't guarantee that the elixir will work on the object of your affections, but it makes a pretty good aperitif.

Voodoo Love Potion
2 tablespoons plain honey
1 teaspoon light rum
10 shredded rose petals
2 mint leaves
Pinch cayenne pepper
6 ounces champagne
2 fresh raspberries
In a small saucepan, warm the honey, rum, rose petals, mint leaves and cayenne pepper over low heat until the honey begins to run. Remove from the heat and stir. Allow the honey to cool slightly. Strain the mixture into a tall fluted glass and add the chilled champagne. Stir and add the raspberries to garnish. Serves 1. (This is not a joke!)
The meal
Remember this is Wednesday, so we want to keep it simple. Here are some suggestions: Roast a pork tenderloin and serve with one of those bottles of chutney you bought at the Punahou Carnival. You can shop the day before and have it marinating the day of the dinner. Or pick up some roasted chickens from the supermarket.
Toss a green salad made of baby romaine lettuce or Nalo greens from R. Field at Foodland Beretania. While you're there, pick up a loaf of La Brea Bakery bread flavored with garlic, rosemary or olives. La Brea bread is also available at Costco.
Oysters are still considered the stuff of love-making and virility, so try this simple oyster casserole.
Scalloped Oysters
1 pint drained oysters
1 1/2 cups crushed Ritz crackers
1/2 cup melted butter
2 teaspoons lemon juice
Salt and pepper to taste
3/4 cup whipping cream
1 tablespoon sherry
Dash of Worcestershire sauce
Preheat the oven to 350 degrees. Drain the oysters, reserving cup of the juice. In a bowl, mix the crackers, butter, lemon juice, salt and pepper. In a buttered 3-cup baking dish or gratin dish, sprinkle one-third of the crumb mixture. Arrange half the oysters on top of the mixture. Sprinkle another one-third on top of that and place the remaining oysters on top of the crumbs. In a bowl, whisk together the cream, oyster juice, sherry and Worcestershire sauce. Pour over the oysters. Top with the remaining one-third crumb mixture. Bake for 40 minutes, or until the top is browned and the dish is heated through. Serves 6-8.
Dessert
Chocolate is a must. If you have time, make this Death by Chocolate Pie that Elin Farrell submitted years ago in The Advertiser's "My Best Recipe" contest.
If you're not into baking, pick up Sara Lee's frozen brownies and some vanilla Haagen Dazs at the market along with two half-pint baskets of raspberries. When you get home, defrost the brownies and whip up a quick raspberry coulis by blending the raspberries with
1/4 cup or more of powdered sugar. Process it until it's smooth, strain and pour over the brownie and ice cream sundae.
But if you're game, try this:
Death by Chocolate Pie
Filling:
21 ounce package of fudge brownie mix
6 ounces semi-sweet chocolate chips
1 cup chopped pecans, or other nuts
1/2 cup water
1/2 cup oil
1 teaspoon coffee liqueur such as Kahlua
1 egg
Topping:
1 1/2 cups whipping cream
1 tablespoon powdered sugar
1 tablespoon chocolate-flavored liqueur or chocolate syrup
Chocolate curls or sprinkles to garnish
Preheat the oven to 375 degrees. Place the prepared pie crust into a 9-inch springform pan, pressing the crust up the sides of the pan. Prick the dough with a fork. In a large bowl, combine the filling ingredients and beat about 50 strokes. Pour into the crust-lined pan and bake 50-55 minutes. Remove andcool for 1 hour.
Remove the sides of the springform pan. In a bowl, beat the whipping cream, powdered sugar and chocolate syrup/liqueur until stiff peaks form. Spoon over the pie and garnish. Keep in refrigerator until ready to serve.