State took gamble in luring series

By Derek Paiva
Advertiser Staff Writer

Fading viewer interest and high costs have ended the run of "Baywatch Hawai'i," the bikini-and-biceps lifeguard series that began 11 years ago in California and moved to the Islands in 1999 at the urging of local officials.

Production had been scheduled to begin this month on the globally syndicated program's 2001-2002 season when executives of London-based Pearson Television pulled the plug on the show, which was filmed exclusively in Hawai'i the past two seasons.

In a press release yesterday, Pearson Television North America president and chief executive officer Brian Harris called the series, "an incredible success story," and blamed the cancellation of "Baywatch Hawai'i" on the "the economics associated with bringing the program back" for a third season.

Industry trade publications have reported that the program was the largest franchise in Pearson's North American operations. Since its Hawai'i move, per-episode costs of the show have been estimated at more than $1 million. Most of that money was reportedly spent in state.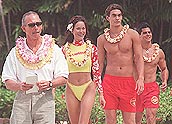 Series creator Greg Bonann led Hawai'i cast members Stacy Kamano, Jason Momoa and Kala'i Miller to their first press conference.

Advertiser library photo

Pearson's chief operating officer Bill Lincoln in Los Angeles declined comment on the program's poorer-than-anticipated ratings, or escalating production costs since it moved to Hawai'i. Instead, Lincoln cited the program's age as a leading factor in its demise.

"Our decision was that the series had run its course, and it was time for something new," Lincoln said. "There were a lot of issues that were under discussion and review at the highest level of the company. We felt that at some point it made more sense to move on."

In the end, Lincoln said, Pearson decided that the money earmarked for the show was better spent on the company's new production ventures.

According to Variety online, "Baywatch Hawai'i," which airs Sunday afternoons on KITV-Channel 4 in Hawai'i, averaged only a 2.1 premiere-to-date Nielsen rating in its current season, which included crucial November sweeps. The rating is the percentage of the nation's estimated 102.2 million TV homes. Each ratings point represents 1,022,000 households.

Honolulu film commissioner Walea Constantinau said those numbers "weren't horrible, but they were borderline." She emphasized that cancellations are a hazard of the TV business, "unfortunate, but not unexpected" and a corporate decision over which local officials had no control.

"Baywatch" series creator Greg Bonann could not be reached for comment yesterday.

High-level executive discussions on the program's fate kicked off late last year at Pearson's London headquarters. "It was a very difficult decision," Lincoln said, "and was very actively discussed both here in Los Angeles and in our corporate headquarters in London. It was not a decision taken lightly."

In spite of the uncertainty over the series' future, Lincoln confirmed that, late last year, Pearson commissioned a handful of "Baywatch Hawai'i" scripts. "We would have done that with any other series," Lincoln said of the new scripts. "We felt that in the eventuality that there might be a writers' strike that it would behoove us to begin writing of scripts for the 2001-2002 season as quickly as possible."

Pearson's L.A.-based "Baywatch" consultant Syd Vinnedge said the show had simply lost its buzz factor with national audiences, as well as its bread-and-butter international viewers.

"The world's changing," Vinnedge said. "It's like what's now happening with 'Who Wants to Be A Millionaire' and 'NYPD Blue.' They're no longer water-cooler shows. The world's changing."

Lincoln didn't have a timetable for layoffs of "Baywatch" production personnel in Hawai'i and California, estimated at more than 125 people.

"We'll have to think about an orderly wind-down of the operation ... perhaps the redeployment of assets to other shows that we currently have in production."

Reached at his Las Vegas home, veteran actor Pat Morita was philosophical about the cancellation. "Whenever these things happen, it's an unfortunate surprise," he said. Morita played Hideki Tanaka, father of lead Hawai'i actor Stacy Kamano's character, Kekoa Tanaka. "I had high hopes that they had turned a corner, to move into the right direction. But you're talking about money brokers, so once the bank drops, there's nothing anyone can do by wrap it up."

Glenn Medeiros, Hawai'i-based music supervisor for "Baywatch," was surprised to hear the show would be discontinued. He and a team of musicians have been immersed in creating a CD of soundtrack music that now may never be released. "With the cancellation, there's one less avenue for exposure for our musicians," he said.

In Hale'iwa, where the series had its filming headquarters at Ali'i Beach Park, the wipeout of "Baywatch" hardly caused a stir among beachgoers. Lisa Kemper, a waitress at Hale'iwa Joe's, said the cast was friendly and the restaurant staff enjoyed having them come in, and Joe Nelligan, 42, said he'd miss watching the bathing suit-clad actresses during filming.

But most residents expressed little interest: "If you live on the North Shore, you really live on the beach so there's no need to watch it on TV," said Alma Reyes, 37. "I don't think it'll be missed much." And Polynesian Hospitality bus driver Ted Turner said "Baywatch" wasn't part of the tour for the visitors he escorts to the North Shore.

Longtime state film office head Georgette Deemer, who left her post for the private sector last month, expressed surprise. "I thought they were going to be strong enough to go through a third season," she said. The cancellation has "major impact, because a TV series has always been the foundation of the industry (here) in terms of employment. Anytime you're without a series (in the Islands), it's a big concern. The challenge is to go out and get another series."

Though nothing is planned, Lincoln and Vinnedge wouldn't rule out another Hawai'i-based production for Pearson Television, a subsidiary of German media giant Bertelsmann, which produces 11,000 hours of television programs annually in 35 countries worldwide.

"Our experience with working with Hawai'i was extremely positive," Lincoln said. "All other factors being equal, we would have loved to have stayed there."

"Baywatch Hawai'i's" last original second-season episode will air the week of May 21.

Advertiser staff writers Wayne Harada, Rod Ohira and Catherine E. Toth contributed to this story.