Low ratings, high costs sink 'Baywatch Hawai'i'

By Frank Cho
Advertiser Staff Writer
It was exciting, exotic and potentially lucrative. It was also risky.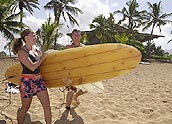 Surfers Kimberly Stewart of Waimea and Joseph Nelligam of Sunset Beach pass a 'Baywatch Hawai'i' filming location.

Richard Ambo • The Honolulu Advertiser

As the popular television show "Baywatch" looked for a new home to recharge its ratings, Hawai'i and a number of local businesses took the gamble, ponying up roughly $7 million in 1999 for free airfare, hotel rooms, production and infrastructure support to land the show.

In exchange, they hoped to capture international attention that would propel Hawai'i's image into the minds of millions of viewers, and translate into travel to the Islands to revitalize the state's sluggish visitor industry and economy.

Now just two years later, "Baywatch" is ending its run and while it's difficult to quantify exactly what benefits Baywatch brought, some are wondering whether the state got its money's worth.

"In hindsight, probably not," State Rep. K. Mark Takai, D-34th (Waimalu, Newtown, Pearl City), former chairman of the House committee on culture and the arts, said yesterday.

Takai said the show's early departure from the state will mean millions of dollars in lost revenues and television exposure and could make it harder for similar shows in the future to get support from the state.

The show's owner, London-based Pearson Television, said yesterday that weak ratings and high production costs caused it to pull the plug.

"The company did not get the support it needed from Europe they were looking for, so consequently, they couldn't go forward," said Frank South, the show's co-executive producer.

A "Baywatch Hawai'i" episode cost more than $1 million to film, or about $20 million annually, most of which was spent in Hawai'i, according to "Baywatch" officials.

To help defray some of the costs, unionized truckers and stagehands working on the show also agreed to cut their pay and benefits, up to 30 percent in some cases.

Union officials could not be reached for comment last night.

"I truly felt it was a good match for Hawai'i, as far as the type of show and the type of things they showcased — the sun and surf. It was a good fit for the state," said Georgette Deemer, former manager of the Hawaii Film Office.

But the show ran into financial problems after its first season in Hawai'i and went back to the state seeking more money — a move some executives with the show said yesterday they consider a mistake.

At the time, producers said that without more subsidies they would have to shut down production. But a $5 million-a-year fund to help film and TV productions was created last February by the state Legislature and helped persuade the show's owner to keep filming in the Islands, executives said.

South, who now makes his home in Hawai'i, said he was surprised by the decision yesterday to shut down, which will put about 125 people out of work — about 85 percent of whom are from Hawai'i.

A small crew will stay on for a few more weeks to pack equipment for shipment back to the Mainland.

Despite the show's cancellation, some experts said yesterday the state's investment could continue to produce returns because reruns of "Baywatch Hawai'i" could be shown for years around the world, much like two other Hawai'i-produced shows, "Hawaii 5-0" and "Magnum P.I."

The state's investment in infrastructure also will have longterm benefits. The $1.7 million water tank for filming "Baywatch" scenes and other improvements at the Hawai'i Film Studio at Diamond Head will return to state control to be used for other productions.

"I think the benefits far outweighed the investment," said Tony Vericella, president of the Hawai'i Visitors and Convention Bureau, a nonprofit marketing agency hired by the state to promote tourism here.

It was Vericella who helped negotiate and sign the final contracts with "Baywatch" and he said yesterday he believes the state got its money's worth.

"Everybody who was a part of this was disappointed. But this was a positive catalyst and I think there will be benefits," Vericella said.

Vericella said the next time a show that wants to film in Hawai'i needs support, it will be easier because businesses have seen what they can expect in this high-risk industry.

"I think we all learned a lot of things from this. Next time everyone will be better prepared," Vericella said.

Gov. Ben Cayetano, who intervened on behalf of the show in 1999 when it was considering Australia as a destination, said he was saddened by the show's departure.

"We are disappointed at the news that 'Baywatch Hawai'i' has been cancelled. They have been a good corporate citizen and partner to many local businesses during the show's final two years here," Cayetano said.

Hawai'i had not had a series filmed here since 1998, when "Wind on Water" and "Fantasy Island" had brief runs. That last series to survive longer than a season was "Jake and the Fatman" on CBS, which aired from 1988 to 1992.

Last year, television and motion picture productions dropped about $125 million into Hawai'i's economy, up from $99.1 million in 1998.

Although he said he was disappointed about demise of "Baywatch Hawai'i," Takai said the state shouldn't give up on expanding Hawai'i's film industry.

"'Baywatch' didn't succeed because the product didn't sell," Takai said. "In the future, we should be on the lookout for shows that have worldwide support."