Read a transcript of last night's live chat on UH football recruiting with assistant coaches Rich Miano and Mike Cavanaugh. Then join our discussion on the signing season.

Warriors recruit list
By Stephen Tsai
Advertiser Staff Writer
Claiming all of his football team's needs were fulfilled, University of Hawai'i coach June Jones spent yesterday — the first day high school seniors may sign binding NCAA letters of intent — waiting for faxed copies of the scholarship contracts and counting his blessings.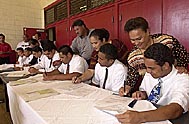 Lucy Hafoka, standing right, signs a letter of intent to BYU for her son Saia, while Fusi Livai, standing middle, signs a letter of intent to Utah for her son Semisi. Seven Kahuku football players signed yesterday.

Richard Ambo • The Honolulu Advertiser

"If everything comes in, this will be a very good recruiting class," Jones told The Advertiser yesterday. He said he will give a full assessment at today's news conference.

Jones declined to identify the players who sent faxes.

But The Advertiser learned that 17 of the 19 recruits who verbally committed signed letters yesterday. UH is awaiting a letter from cornerback Jean Elise. Nose tackle Matt Tupuola of El Camino College in Torrance, Calif., signed with Cincinnati.

Three other recruits — defensive end Hiram Travis of El Camino College, offensive lineman Mike Holt of Grand Rapids (Mich.) College and linebacker Donny Faaliliu of Los Angeles Harbor College — signed scholarship agreements last month and are attending classes at UH this semester. They will participate in spring practice, which begins March 1.

"It's hard to grade until they get older, but it looks on paper like a very productive class," Jones said. "We addressed our needs."

The Warriors sought cornerbacks, defensive linemen, offensive linemen and linebackers. They were willing to use scholarships on exceptional running backs and receivers. They apparently believe they found those in Mike Bass, who was named ESPN's Southern California high school player of the year after rushing for 2,875 yards and 40 touchdowns at Centennial High in Corona, Calif.; St. Louis School running back Pesefea Fiaseu Jr., the state's offensive player of the year; wide receiver Nate Ilaoa, the Washington Post's Metro player of the year and Laney College's Omar Bennett, who scored on seven kickoff and punt returns in high school.

The signing period began early yesterday on the St. Louis School campus, when five Crusaders put their commitments in writing during an elaborate ceremony attended by school officials, parents and reporters at Richard Mamiya Hall.

Fiaseu Jr. and linebacker Ikaika Curnan signed with UH; linebacker Joseph Lobendahn will attend the University of Washington; nose tackle Lyle Maiava signed with the University of Wisconsin, and defensive lineman Lafaele Manupuna committed to Colorado.

Two weeks ago, Maiava made a conditional verbal commitment to the University of Oregon, saying he would sign with the Ducks unless he was offered a scholarship from Wisconsin.

"Wisconsin was always my first choice," said Maiava, who aspires to be a computer engineer.

When a Wisconsin scholarship became available, Maiava notified the Oregon coaches.

Meanwhile, Fiaseu Jr. and Curnan had no regrets over choosing the Warriors. Fiaseu Jr. announced his decision in December because he wanted to make a public declaration before his father left for Alaska to help relatives with a business. Fiaseu Jr. said his father will return to O'ahu this summer.

Fiaseu Jr., who is St. Louis' student body president, said he considered attending a Mainland college. But, ultimately, he wanted his family and friends to watch his home games.

Curnan described signing as a "big relief. I'm happy to think about other things now."

Curnan was the 1999 state defensive player of the year and a three-time All-America selection.