By Michael Tsai
Advertiser Staff Writer
It's different outside.
Outside, asphalt courts chew through the soles of your shoes and bent rims spit back any shot that isn't right on the money. Outside, it's always three on one — you versus the sun, the wind and a flesh-and-blood defender with an HMO policy for acknowledging injury.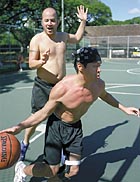 Andrew Tamayo gets past William Pelegrin on his way to the basket at Paki Park in Waikiki. Basketball was ranked well back in the Advertiser's top 10 because of the arsenal of skills required to play the game at a high level.

Eugene Tanner • The Honolulu Advertiser

Still, according to our panel of health and fitness experts, if you've got game, you've also got a great way to stay in shape.

The physical demands of running, passing, shooting and rebounding make basketball a uniquely integrated cardiovascular and muscular workout. And being able to play under clear skies virtually year-round in Hawai'i makes it all the better.

"There's a lot of motion involved in a full-court game and if you can avoid some of the common injuries, you can get a lot of health benefits from it," said Jeff Deininger, health and fitness director for the YMCA.

Basketball is a game of motion. Even a damn-the-three-second-rule center will burn a ton of calories running the full court, setting up on offense and reacting on defense. In a fast-paced game, players also will get an anaerobic workout as they sprint up and down the court and perform repeated upper-body functions — shooting, rebounding, blocking — in oxygen debt.

The game also is highly adaptable. If you can't find nine other players for a full game, you can instead play full- or half-court games with four, three, two, even one player per side. Three people also can play the old game "21," essentially a one-on-one-on-one game. For cardiovascular benefits, however, Deininger said a full-court game is preferable.

Breakdown
The good: Basketball offers a full-body workout with powerful cardiovascular benefits possible in full-court play. Like other sport-related activities, the objective of the game often distracts from the effort involved.
The bad: You might have to wait a long time to get a game if you show up at peak times on urban courts. The opposite also can be a problem: Hit the courts at an off time and you could have a problem finding enough people for a decent run. Not a great game for people with knee or back injuries.
Watch out for: Ankle, knee, wrist and finger sprains and collision injuries.
Getting started: Practice some basic shooting, dribbling and passing drills and be sure you're in decent cardiovascular shape before you start jumping into pick-up games. To start, look for other players of your approximate skill level and play half-court games of two-on-two or three-on-three. It's also a good idea to sit and watch a few games to get a feel for the level of play at a specific court.
The last word: "When you play outside, you're contending with the elements as well as the other team," says Gary Ching of Ho-nolulu. "Also, the game tends to be a lot more aggressive on the outside courts compared to gyms. You have to get up for that."

"You take away a lot of the health benefits when you play half court," he said. "You might sweat and get tired, but its not as beneficial as constant, sustained movement."

Dennis Chai, a professor of kinesiology and leisure science at the University of Hawai'i, said he often gets a good workout just running through drills by himself.

"I can really break a sweat just simulating all the skills: sprinting, ball handling, defensive slides, changing directions," he said.

The game favors players with a healthy supply of quick-twitch muscle fibers, which allow for quick, explosive movements such as sprinting and jumping. However, slower players can compensate with good footwork, anticipation and knowledge of spacing and positioning.

In addition to good flexibility and range of motion, players also need strong lower back and abdominal areas. These so-called "core" muscles help to stabilize the body and complement the major muscle groups during exertion.

To properly react to the myriad of variables at play in each possession, players need to have a grasp of the fundamentals of the game. A refined arsenal of skills allows players to improvise within the flow of the game and mesh with unfamiliar teammates.

For our panel, the need to have such skills and understanding to join pick-up games mitigated some of the benefits of the sport. Access, which includes the ease in which an individual can enter and enjoy an activity, was a key consideration in compiling our Top 10 list and was one of the reasons basketball couldn't be ranked higher.

"It requires skill and you have to be in shape to play," Deininger said.

The panel also was concerned about the relatively high rate of injury associated with basketball. Jumping, cutting, sprinting and frequently changing direction put players at risk of ankle and knee injuries. Injuries from contact with other players are also common.

These risks are even greater for players who lack muscular and joint flexibility, and cardiovascular conditioning.

"There is a lot of quick, explosive movement and the exertion can be intense and strenuous," Chai said. "Getting to a point where you can safely compete is very crucial to your enjoyment and longevity in the game."