Advertiser Staff
O'ahu's public schools ruled the Neighbor Islands on the first day of the 20th Meadow Gold Girls State Soccer Championships yesterday at Waipi'o Peninsula Soccer Park.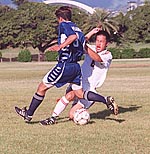 Kamehameha's Matthew Beimes, left, and 'Iolani's Dale Lee collided while battling for the ball in yesterday's ILH match.

Gregory Yamamoto • The Honolulu Advertiser

Four teams that finished behind O'ahu Interscholastic League champion Pearl City sent second- and third-place teams from the Big Island and Maui, and Kaua'i champion Kaua'i High all into the losers' bracket.

The scores were Kailua 3, Kaua'i 1; Kahuku 2, Hilo 1; 'Aiea 2, Waiakea of Hilo 1, and Mililani 5, King Kekaulike of Maui 0.

Kailua's Sarah Takekawa, who started her day by signing a scholarship agreement with St. Mary's of California, and Kahuku's Natasha Kai, who signed last fall with Hawai'i, and 'Aiea's Nadine Manangan each scored two goals.

Four league champions, including No. 1 seeded defending champion Baldwin of Maui, will make their state debuts today in quarterfinal matches against yesterday's winners on the Waipi'o park's stadium field.

Mililani scored four goals in the second half yesterday after leading King Kekaulike, the Maui runner-up, 1-0 at halftime. Takekawa and Kai each scored two goals in the second half of their games.
Meadow Gold 20th Annual HHSAA GIRLS STATE SOCCER CHAMPIONSHIPS
FIRST ROUND
Yesterday's results
At Waipi'o Soccer Park
Kailua 3, Kaua'i 1
Kahuku 2, Hilo 1
'Aiea 2, Waiakea 0
Mililani 5, King Kekaulike 0
Today's games
At Waipi'o Peninsula Soccer Park
(Seeds in parentheses)
Hawai'i Prep (4) vs. ' Aiea, 1:30 p.m.
Baldwin (1) vs. Kailua, 3:30 p.m.
Pearl City (2) vs. Kahuku, 5:30 p.m.
Punahou (3) vs. Mililani, 7:30 p.m.
Tomorrow's games
At Aloha Stadium
Consolation bracket
Kaua'i vs. Waiakea, 9:30 a.m.
Hilo vs. King Kekaulike, 11:30 a.m.
Losers of Baldwin-Kailua and HPA-'Aiea, 1:30 p.m.
Losers of Pearl City-Kahuku and Punahou-Mililani, 3:30 p.m.
CHAMPIONSHIP SEMIFINALS
Winners of Baldwin-Kailua and HPA-'Aiea, 5:30 p.m.
Winners of Pearl City-Kahuku and Punahou-Mililani, 7:30 p.m.
Saturday's schedule
At Aloha Stadium
Consolation final: 1:30 p.m.
Fifth-place game: 3:30 p.m.
Third-place game: 5:30 p.m.
Championship game: 7:30 p.m.
Admission: Free at Waipi'o Peninsula Soccer Park stadium. At Aloha Stadium, $7 adults, $5 students grades K-12, free for AYSO players sixth grade and under in uniform. Only Gate 6 ticket booths and turnstiles will be open.
Parking: Free at Waipi'o Peninsula Soccer Park. $2 at Aloha Stadium (the swap meet will be in operation on Saturday).
Results on the web: www.sportsHIgh.com.
Championship game TV: Tape-delay Sunday (Feb. 11) at noon and Friday (Feb. 16) at 9 p.m. on KFVE (channel 5).
ILH soccer
'Iolani wins title: 'Iolani lost its first match but won a championship yesterday on the last day of the Interscholastic League of Honolulu boys' soccer season.
Punahou lost a match and lost a chance to go to the state soccer tournament.
Kamehameha beat 'Iolani 1-0 at Kapi'olani Park and leapfrogged Punahou into second place in the final standings, earning the Warriors the right to play King Kekaulike, the second-place team on Maui, Saturday at 2 p.m. at Pukalani, Maui, for the final state berth.
St. Louis beat Punahou 2-1 at St. Louis, setting off a celebration "like we had won the Super Bowl," Crusader assistant athletic director Georges Gilbert said.
Had Punahou won, it would have tied 'Iolani for the championship, forcing a playoff today. Instead, the Buffanblu will stay home for the second year in a row after making it to states 24 straight years and winning the state championship 14 times.
Here is how the standings ended for the top teams in the ILH:
W L T CP
'Iolani 8 1 3 27
Kamehameha 8 2 2 26
Punahou 7 2 3 24
St. Louis 5 3 4 19
CP-Championship points.
St. Louis 2, Punahou 1: Junior midfielder Daniel Burris scored both goals for the Crusaders in the first half. He made a 30-yarder from the middle early in the match when Punahou defenders flared to cover Nick Tudisco on the wing and left Burris unmarked. The ball skimmed just under the cross bar.
Later in the half Kesuke Yasuda put a free kick in front of the goal and Burris headed it in.
Punahou's Stephen Carlson scored on a rebound after a corner kick and header early in the second half.
"Today they played the way they should have played the whole season," St. Louis coach Ron Clavicillas said. "I told our four seniors, 'I'm really glad you have this' and I told the juniors, 'This is the level we must elevate to next year.' "
Kamehameha 1, 'Iolani 0: Kekoa Smith, who wasn't even on the varsity roster at the start of the season, scored for the Warriors in a free-for-all in front of the goal after a long clear with about 16 minutes left in the match.
The Warriors "played their hearts out today," 'Iolani coach Myles Arakawa said. "They came out on fire and beat us to every 50-50 ball. They deserved it."
"Fortunately, we have the opportunity to learn from this," Arakawa said. 'Iolani, which has won two ILH titles in a row, will defend its state championship starting Feb. 15 at Aloha Stadium.
ILH scoring leader Duke Hashimoto of 'Iolani left yesterday's match when his knee buckled as he was back peddling and he did not return. "Our back line is decimated by illness and injuries," Arakawa said.
Yesterday's results:
Kamehameha 1, Iolani 0. Kam-Kekoa Smith.
St. Louis 2, Punahou 1. St.L-Daniel Burris 2. Pun-Stephen Carlson.
Pac-Five 5, Damien 0. Pac5-Dane Nakasone, Darin Fajota, Dayson Lee, Jon Tamayose, Ross Kodani.



MAUI SOCCER
Baldwin stays unbeaten: Maui Interscholastic League champion Baldwin finished an unbeaten (9-0-1) season Tuesday by blitzing St. Anthony 10-2. Kawika Kahui scored a hat trick for the Bears.
A penalty kick by Mark Saiki gave Maui High its first victory of the year, 1-0, over Seabury Hall.
Tuesday's results:
Baldwin 10, St. Anthony 2. Bal-Kawika Kahui 3, Clayton Sado 2, Lane Matsui 2, Keola Nobriga, Pono Ordonez, Kimo Ballesteros.. St.A -JJ Pacheco, other goal unreported.
Maui 1, Seabury Hall 0. Maui-Mark Saiki (PK first half).



KAUA'I SOCCER
Kapa'a wins playoff: An own goal gave Kapa'a a 1-0 victory over Kaua'i High Saturday in a one-game playoff for the Kaua'i Interscholastic Federation boys championship. Kapa'a will bring a 7-1-2 record to next week's state tournament; Kaua'i finished 7-3-0. They tied for the regular season title with 14 points each (2 per victory, 1 per tie).



SIGNINGS
Soccer, basketball commitments: A Kailua High girls soccer player signed with St. Mary's of California yesterday and a Roosevelt girls basketball player verbally committed to Boise State of Idaho.
Kailua's Sarah Takekawa, a two-time all-state honorable mention selection and three-time O'ahu Interscholastic Association all-star, accepted a full tuition scholarship to St. Mary's. Takekawa, a forward with a 4.0 GPA, has scored 34 goals in her career at Kailua, including two yesterday in a state tournament victory over Kaua'i.
Boise State's coaches became interested in Roosevelt's Jodi Nakashima after she made 21 3-pointers in eight games playing for Hawai'i Select in a Junior National tournament at Las Vegas in July.