Advertiser Staff

Crew members of the Ehime Maru remember a shudder then quickly rising water after a Navy submarine struck and sank their Japanese fishing training boat south of O'ahu this afternoon. Coast Guard vessels continue to search tonight for nine from the boat who remain missing.


The 174-foot Ehime Maru, a longline training vessel owned by the Ehime Prefecture with 35 aboard, had been in Hawai'i since Tuesday. Among those on the boat were 13 students from Uwajima Fishery High School.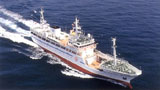 This is one of the ships operated by the Uwajima Fishery High School.

Uwajima Fishery School Web site

The Pearl Harbor-based USS Greeneville, a nuclear powered, fast attack submarine, was surfacing just about 1:45 p.m. It was nine miles south of Diamond Head when it struck the Ehime Maru, said Navy Lt. Cmdr. Dave Werner, spokesman for the U.S. Pacific Fleet's submarine force.


Werner said the stern of the Greeneville "may have made contact" with the Japanese vessel.


He said the Greeneville was underway for routine operations.


"I don't know what they were doing and the circumstances surrounding what they were doing," Werner said. "The boat is out there trying to support rescue operations."


Emergency rescue personnel said 12 people were taken to Kaiser Permanente Medical Center in Moanalua and the Queen's Medical Center. Two were suffering from hypothermia, one from a broken collarbone and possible neck injury and others with eye and ear irritation.


Suvivors recount collision


Speaking through a Japanese translator at Kaiser, 17-year-old survivor Hiroyuki Hosokawa said he was below deck on the Ehime Maru when he felt two shocks.

He said he walked out into a hallway where he could look down onto the bottom level, and he could already see that it was filled with diesel fuel. He said he headed for the top deck, where he saw the submarine start to surface. Two or three minutes later, his ship sank, he said.


Other crew members recounted how they watched rushing water sweep one person from the deck. Soaked in diesel fuel, they struggled off the ship and clung to six liferafts set adrift in 6- to 8-foot seas and waited for help.


Within minutes, their vessel was gone.


Survivors told hospital personnel that they had to swim through diesel fuel after the collision.


There were no reported injuries among the submarine crew members.


Questions remain


Navy officials were unable to say why the sub failed to detect the Japanese boat as it surfaced.


"The Navy plans to conduct a complete investigation into the mishap," U.S. Pacific Fleet spokesman Jon Yoshishige said tonight.


Coast Guard commander Dee Norton said the training ship, a three-deck vessel, went down in water that is 18,000 feet deep.


The Coast Guard Joint Rescue Coordination Center reported receiving an emergency radio beacon from the training boat at about 2 p.m. and later a call from the Navy reporting the collision.


The Coast Guard dispatched rescue boats and aircraft and pulled 26 survivors from liferafts. They were taken to the Coast Guard Sand Island station.


Twenty crew members, two instructors and 13 students were aboard the training boat, said Japanese consultant spokesman said.


Among the missing are two engineers, two teachers, four students and one crewmember.


All-night search planned


Coast Guard ships were searching a 300-square-mile area and planned to remain out all night, said Norton.


"As long as there's a chance survivors are out there, we will continue to search," said Norton.


The Coast Guard cutter Assateague and Kittiwake, a HH-65 rescue helicopter and a C-130 rescue aircraft were on the scene last night. The cutter Kiska was scheduled to arrive tomorrow morning.

The Navy also sent the cruiser USS Lake Erie, the salvage ship USS Salvor, a P-3 Orion airplane and a SH-60 Seahawk helicopter to help with the search.


Gabe Sage, a Coast Guard aviation survival technician, was flown by helicopter and jumped into the water to assist in the rescue. He said the 26 survivors were in six rafts, three of them tied together.


He said he could not see anyone in the water.


"Everyone was complaining about a lot of diesel fuel fumes in their eyes," he said.


Some of them said many were in the engine room and they had to scramble out, Sage said.

The boat left Honolulu Harbor's Pier 9 at about noon today and were said to be on its way back to Japan.


Advertiser Staff Writers Mike Gordon, Tanya Bricking, Alice Keesing, William Cole, Jennifer Hiller and Glenn Scott contributed to this report.