By Robbie Dingeman
Advertiser City Hall Writer
The state Campaign Spending Commission has subpoenaed the city travel expense records of Councilwoman Rene Mansho, investigating her use of campaign money to pay for dozens of government-sponsored trips over the past decade.
For several months, the commission has been focusing on about $30,000 in expenses paid through Mansho's campaign funds for travel on city business, including $12,212 in American Express charges and $5,163 in cell phone charges.
The state commission has maintained that the spending was illegal because the expenses have no apparent connection to a campaign. Mansho denies wrongdoing and says she will correct any problems.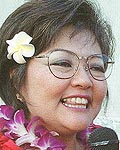 A state agency is subpoenaing records related to 42 Mainland and interisland trips taken by Mansho.

Advertiser library photo

The recent subpoenas were issued for specific travel records related to 42 Mainland and interisland trips, many of them in connection with Mansho's position as the Honolulu representative to the Hawai'i State Association of Counties.

Her extensive city-sponsored travel — more than any other council member — has taken her across the country, most recently to Charlotte, N.C., and includes trips to Washington, D.C., and California, Missouri, Idaho, Utah, Colorado and Texas, as well as the Neighbor Islands.

The trips began in June 1990 and continued until July 2000.

Campaign spending reports during that time show about $9,000 in travel-related expenses that Mansho paid for with campaign money. The reports also show that in 1997, Mansho personally reimbursed her campaign for more than $3,000 in travel-related expenses. It is unclear why the remaining expenses were not reimbursed.

Commission executive director Bob Watada declined comment, other than to say the investigation is continuing.

"We're still looking at her campaign expenditures," he said.

Mansho referred questions about the inquiry to her attorney, Charles Price. Mansho and Price have maintained that she did not intentionally violate campaign spending laws and that she will make reimbursement if she is found to have misused the money.

Price said negotiations are continuing with the commission staff.

"We've always — from the beginning — been willing to pay any sums that the commission determines need to be reimbursed," he said.

Watada said the commission postponed its decision on whether to refer its investigation to the state attorney general's office until its March 13 meeting. The matter was scheduled to be discussed at its next regularly scheduled meeting Tuesday.

The Internal Revenue Service also has made inquiries into some of the expenses, a source close to the investigation said. The IRS does not comment about ongoing investigations.

Sources also said that campaign officials also are looking into allegations that Mansho required staff members to do campaign work on city time, which would amount to an in-kind contribution to Mansho's campaign.