By Walter Wright
Advertiser Staff Writer
A plume of flame 100 feet high and a huge cloud of black smoke poured from a smokestack at the Chevron Hawai'i Refinery during an emergency shutdown yesterday, alarming some nearby residents.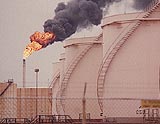 A Chevron refinery smokestack spews flames and smoke that could be seen miles away from Campbell Industrial Park.

Eugene Tanner • The Honolulu Advertiser

Flames poured out of the stack for about 40 minutes, but officials said there was no danger or environmental damage. The plant was stabilized after an hour and 45 minutes and Chevron called an all clear at 2:15 p.m.

"It scared the community," said Maeda Timson, chairwoman of the Makakilo-Kapolei-Honokai Hale Neighborhood Board.

"I was on my way into town and all of a sudden I had all these calls on my cellular, and I pulled over and I could see it — wow! — and it looked at a distance like it was 30 or 40 feet high, and I said, 'What the hell is that?'

"People are frightened," Timson said. "We normally look that way and wonder what the heck they are doing, but this time people said, 'Oh my God, what is that?' It was a much bigger flare than we have ever seen."

Despite the spectacle, both the fire department and Chevron said there was no immediate danger to workers or residents, and no evacuation was ordered.

Capt. Richard Soo, department spokesman, estimated that the flames shot 100 feet above the 125-foot stack at times, while a cloud of black smoke three times as high drifted out to sea.

At the same time, Chevron's own firefighting crews responded to a brushfire on the 300-acre refinery property at Campbell Industrial Park, but it was not clear if that fire was related to the sudden release of fuel gases.

Chevron said the refinery experienced "mechanical difficulties" at 12:35 p.m. and that an automatic safety shutdown was triggered on some equipment.

Soo said the refinery notified the fire department about 14 minutes later as it scaled back the operation of a fluidized catalytic converter that refines gasoline at the plant.

Chevron spokesman Alfred D.K. Chee Jr. said sensors responding to the problem allowed the venting of excess fuel gases but that the gases apparently blew out the water in a water seal that works like a trap under a sink.

Soo said the seal was part of the hydrocarbon emission prevention system and when it was bypassed, huge clouds of black smoke and the tower of flame jetted from the stack.

Flames poured out of the stack for about 40 minutes, then settled down to lesser, intermittent bursts as the company gradually brought its equipment back on line.

The company believes the flare did not endanger the community with toxic materials, Chee said.

Wilfred Nagamine, Clean Air Branch manager at the Department of Health, said he doubted that sulfur dioxide produced in the flare exceeded limits or endangered anyone, partly because the plume gained altitude quickly and because winds were blowing away from land.

Nagamine said he was in Pearl City at the time of the incident and could clearly see clouds of black smoke and the bright flame at the refinery miles away.

"Normally those (fuel) gases would be processed in the system," Nagamine said.

Exhausting larger volumes of gas through the flare "happens every so often," Nagamine said. "Whenever they have a problem they will redirect their fuel gases to prevent any pressure build-up in the system."

But Soo said plant workers could not recall such a massive release in at least eight years.

Nagamine said his office would review Chevron's maintenance records to see if the situation could have been avoided.

"But I don't think maintenance is a problem," he said. "I think it was just equipment that malfunctioned or broke. They are a pretty visible facility, and it is one of the facilities we look at very closely and watch.

"They do have these periods of time" in which extra gases are vented through the flare, he said. But cost considerations give Chevron strong motivation to avoid such a shutdown, he said.

"For them, this is money," he said. "And anytime they have this kind of problem, they lose a bundle."

Gary Gill, deputy director for environmental health, said he will review Chevron's record and its report on the incident.