By William Cole
Advertiser Courts Writer
A 68-year-old Wai'anae woman accused in Wednesday's fatal stabbing of her husband has a history of mental illness and was previously committed by a judge to the Queen's Medical Center, court records show.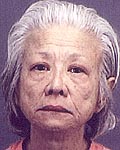 Catherine Nakamura is accused of fatally stabbing her husband George at their home Wednesday.

Catherine T. Nakamura, charged yesterday with second-degree murder, was arrested after she told a police officer who arrived at the Puhano Street residence, "I knifed my husband," according to police.

The woman then led the officer to a bedroom where she pointed out the body of her husband, George M. Nakamura, who was face down in a pool of blood, according to a police affidavit.

The 68-year-old man had what appeared to be four 1- to 2-inch puncture wounds to his back and another puncture just under the sternum, the officer said. When asked where the knife was, Catherine Nakamura pointed to a knife on the counter near the sink and told the officer she had already cleaned the blood off, the affidavit said.

The wife, whom police described as being "fairly calm," was arrested on suspicion of second-degree murder and initially was transferred to the Wai'anae station.

Catherine Nakamura remains in custody. Her bail was set at $100,000.

Court records indicate Catherine Nakamura had a bi-polar disorder. Her nephew, attorney John Komeiji, sought guardianship of Catherine Nakamura in 1998 and 1999, calling his aunt an "incapacitated person" and stating she lacked "sufficient understanding or capacity to make or communicate responsible decisions concerning her person by reason of her psychiatric condition."

According to an affidavit filed by Komeiji in 1998, following an evaluation by the Suicide & Crisis Center, Catherine Nakamura was committed by court order to the Queen's Medical Center for evaluation and treatment.

While at Queen's, Catherine Nakamura refused to take her medication and kicked, punched and bit staff, Komeiji said in court papers. He added that he believed she posed a danger to herself and others.

In 1999, a doctor said Nakamura was delusional and "lacks sufficient understanding to make responsible decisions," Komeiji said in case documents.

The attorney could not be reached for comment yesterday.

According to a neighbor, George Nakamura said his wife sometimes heard voices when no one was around, but he tried to take care of her.

Hawai'i State Hospital Administrator Barbara Peterson said it's common for family members to care for loved ones with mental health problems past the point where they need professional intervention.

"We all want to do the right thing, and sometimes we think we're the only ones who can do it," she said.

Advertiser staff writer Brandon Masuoka contributed to this report.