By Christie Wilson
Advertiser Neighbor Island Editor
A rainy day in Hilo and Puna triggered fears of flooding like that which caused $70 million damage in November, but all appeared wet but well early yesterday evening.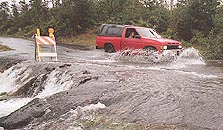 Floodwaters that broke the asphalt of Route 8 in the Big Island's Puna district revived memories of last November.

Deborah Booker • The Honolulu Advertiser

Police and Civil Defense officials reported no major road or property damage.

A flash-flood watch had been in effect most of the day for South and East Hawai'i.

Nearly 5 inches of rain pelted Pahoa in the 24 hours that ended at 2 p.m. yesterday, according to the National Weather Service. In Hilo, rainfall was reported at more than 1.5 inches.

Civil Defense Administrator Bill Davis said areas of Puna and Ka'u experienced ponding and heavy runoff, and some residents had requested sand bags as a precaution.

Big Island police Lt. James Kelly of the Puna district said, "it was coming down pretty good, with lightning and thunder" during the day. The only rain-related incidents were four vehicle collisions during the morning rush hour that clogged traffic on Pahoa Highway, he said.

The Weather Service forecast cloudy skies and a chance of showers for the Big Island today and tonight. Tomorrow should bring sunny periods after morning showers.