By Curtis Lum
Advertiser Staff Writer
It may not have been a monstrous octopus or great white whale, but the giant jellyfish found in Kane'ohe Bay last week did cause quite a stir.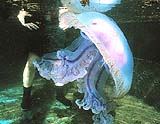 The jellyfish that was found in Kane'ohe Bay last week was identified by Waikiki Aquarium scientists as an Anomalorhiza shawi, believed to be native to the Philippines.

Waikiki Aquarium

The jellyfish was discovered by startled biologists at the University of Hawai'i Institute of Marine Biology on Coconut Island in the bay. The purple-and-white jellyfish, or "sea jelly," the term preferred by biologists, was 24 inches in diameter and spotted in shallow waters near the laboratory.

Scientists at the Waikiki Aquarium were called to investigate the finding and identified the sea jelly as an Anomalorhiza shawi. The creatures are believed to be native to the Philippines and are rare in Hawaiian waters, said aquarium director Bruce Carlson.

Giant jellyfish are normally cold water creatures and very few this large are found in the tropics, he said. The Anomalorhiza shawi was first discovered in Kane'ohe Bay in 1983, and two specimens have been collected over the years.

"They're rare only because they are rarely seen," Carlson said. "There must be a population reproducing somehow, but we don't know enough about them because so few have been seen."

Carlson said the species may have been brought to Hawaiian waters on ships from the Philippines. When the jellyfish reproduce they form small polyps that attach to ships. These polyps then bud off baby jellyfish.

In addition to being much larger than the nearly transparent Hawaiian jellyfish, Carlson said the giant sea jelly found last week had pink and blue mixed into it.

"It was really quite pretty," he said.

The sting of the giant jellyfish also belies its size.

"I actually touched this one and it has a very mild sting. It's nothing that would cause anybody any great pain," Carlson said.

Carlson said the giant jellyfish was released into Kane'ohe Bay after being photographed and studied. He said the aquarium would have put the jellyfish on display, but didn't have a large enough tank.

"If it was a really nasty species, we probably would have removed it. But since it seems to be a relatively harmless species, we let it remain," Carlson said.