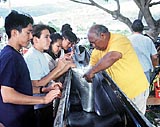 Sam Steamboat Mokuahi, who says paddling "builds character," helps public high school students build canoes in a shop at Kaiser High School.

Photo by Gary Hofheimer
Posted at 5:30 p.m.,February 15, 2001
Soccer tournament to be held in Hawai'i
More than 250 teams from 13 states will converge in Honolulu in 2003 when the Region IV tournament of United States Youth Soccer is played at the Waipio Soccer Park.


Posted at 6:20 p.m.,February 15, 2001
Mililani advances in boys state soccer
In a continuation of a soccer game suspended Wednesday night because of numerous power outages at Aloha Stadium, Mililani defeated Kealakehe, 4-0, to advance to the quarterfinals of the AT&T Wireless Boys State Soccer Championships.

New era dawns for 'state sport'
Students from 20 high schools will compete in the O'ahu Interscholastic Association outrigger canoe championships at 12:30 p.m. Saturday at Ke'ehi Lagoon Beach Park. These are the first official championship races in paddling.

Recreation on the move
The Recreation Page, a constant Thursday feature for the past few years, is moving to Fridays. It will include the same popular and unique outdoor activities, as well as catch of the day and hiking features. Tomorrow, The Advertiser continues its look at the top 10 outdoor activities in Hawai'i.