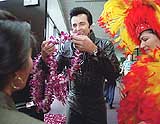 Aloha Airlines celebrated its first flight from Honolulu to Las Vegas with fanfare yesterday at Honolulu International Airport. An Elvis lookalike and woman dressed as a Las Vegas showgirl bestowed leis on passengers at the boarding gate. Aloha's Las Vegas service includes a daily round-trip flight to Honolulu and a daily round-trip flight to Kahului, Maui. Both flights include a connecting stopover in the San Francisco Bay Area at the Oakland International Airport.

Deborah Booker • The Honolulu Advertiser
Tatibouet hoping to sell first Aston hotel in Waikiki
Hawai'i hotel executive Andre Tatibouet has put up for sale the boutique Waikiki hotel that was the first to bear the Aston name he established 15 years ago.

Bulgari, Mariott plan luxury hotel chain
Bulgari SpA, the Italian company known for its jewelry, and U.S. hotel operator Marriott International Inc. said they will invest about $140 million to develop a luxury hotel chain.