By Eloise Aguiar
Advertiser Staff Writer
The first child born in Hawai'i this year has been in the planning for seven years.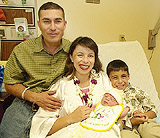 Ramon Ruelas and his wife Erika are the proud parents of Jose Armando Irigoyen, who was born at 12:08 a.m. yesterday and became the first Hawai'i baby born in 2001.

Eugene Tanner • The Honolulu Advertiser

Jose Armando Irigoyen Ruelas was born at Tripler Army Medical Center at 12:08 a.m. yesterday, weighing in at 8 pounds, 7.5 ounces and measuring 19 inches long.

Parents Erika, 26, and Army Staff Sgt. Ramon, 32, of Schofield Barracks, delayed having a second child because their first child was born prematurely seven years ago. Erika Ruelas said the experience was frightening.

"I was scared because he stayed in the hospital almost two months," she said.

Sgt. Ruelas said he also wanted a child born in Hawai'i. His first son, Erick, was born in Texas. He and his wife are from Mexico.

"It's cool to have a Hawai'i baby," he said.

Their new son was three days early. Ruelas said he has enjoyed the attention given to his child for being the first birth of the year.

If the baby had been born a few minutes earlier, the Ruelas' would have had a tax deduction, but Ramon Ruelas shrugged that off. What mattered was that their baby was healthy, he said.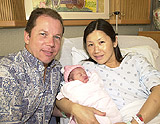 Bob and Fumi Korodan of Mililani had O'ahu's second baby of 2001, Kiyomi Mary Korodan.

Richard Ambo • The Honolulu Advertiser

Two minutes later, the second child born on O'ahu this year arrived for Fumi and Bob Korodan of Mililani.

Kiyomi Mary Korodan was born at 12:10 a.m. at Kapi'olani Medical Center for Women and Children, and weighed 5 pounds, 6 ounces and was 18.5 inches long.

Fumi Korodan said her doctor had predicted the possibility of her having a New Year's Day baby on her first visit to him.

"He told us it could be Jan. 14 or it could be New Year's Eve," said Korodan, 33. "He must be psychic."