By Curtis Lum
Advertiser Staff Writer
A penny will still buy your thoughts next week, but you'll need an extra one to mail them in a first-class letter.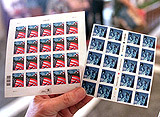 Starting Sunday, a first-class letter will require a 34-cent stamp. The stamps are available at post offices now.

Cory Lum • The Honolulu Advertiser

The cost of a first-class stamp increases to 34 cents on Sunday. New "USA First-Class" stamps are on sale, as are 2 billion one-cent stamps to supplement leftover 33-cent stamps.

The first increase in two years was needed to cover rising fuel costs and inflation, said U.S. Postal Service spokeswoman Felice Broglio. The Postal Service in December reported a loss of $199 million for the fiscal year.

"Our costs go up just like any other business or household, and we do need to make this adjustment to respond to this cost of doing business," Broglio said.

She said some consumers suggested raising the stamp to 35 cents to make things easier, but the Postal Service by law can charge only what is needed to break even.

Moreover, for business customers who spend millions of dollars in postage, "a few cents translates into a lot of money that's not necessary to be charged," she said.

The cost to send a 2-pound Priority Mail package will rise from $3.20 to $3.95, and there will be a new 1-pound rate at $3.50.

A half-pound Express Mail package will increase from $11.75 to $12.25 on Jan. 7. The cost of sending a postcard will remain 20 cents.

Overall, rates rise 4.6 percent, although actual increases will vary by class of mail. For first-class letters, the cost of each additional ounce will actually decrease a penny, to 21 cents.

Broglio said the Postal Service will allow a "very short" grace period for letters without the new postage, but such letters might be delayed.