By Eloise Aguiar
Advertiser Windward Bureau
LANIKAI — Any attempt to sleep off the excesses of New Year's Eve were blown away in Lanikai yesterday morning by a traditional parade featuring a school band, blasting horns, a rock band and noise aplenty.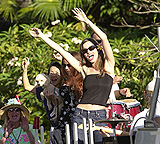 Among the floats responding to the theme "Who's Running Lanikai?" in the Woes Day Parade was this one: "Gossip runs Lanikai." The annual parade roused the Windward community with amplified music and marching bands.

Richard Ambo • The Honolulu Advertiser

For some 32 or 34 years, depending on who's talking, the Woes Day Parade has circled the secluded beach community, which is separated from the rest of Kailua by a ridge. More than 100 Lanikai residents worked to answer the parade theme: Who's Running Lanikai?

Nine floats with such themes as "Beachboys Rule," "Beware the Land Sharks," "Gossip Runs Lanikai" and "Kids Rule, Adults Drool" took part in the friendly competition that brings together the community at the start of each year.

"I'm really glad Lanikai keeps up the tradition, because so many traditions seem to go by the wayside," said Byrde Cestare, one of the organizers. "It's nice to have something that is totally silly and stupid and everybody enjoys it."

The morning events began with a 7:45 a.m. foot race. Between 50 and 60 people circled the 2.5-mile Lanikai loop, including visitor Jurgen Peretzki, who said it is the only event in which he races.

Adding to the zany atmosphere were three Sirens of the Sea; Dawn Cosgrove as the Pregnant Chad; and the Jogcuar, a deluxe new eight-foot-powered vehicle.

The 2000 presidential election provided inspiration for a couple of floats, which worried Lanikai resident Nicole Robinson.

"We started with 'Chads over the Mokulua,' and some how it got out of control," Robinson said. "I'm scared people are going to think it's a pro-Gore float. But it's not."

With signs such as "More Gore in 2004, Prez of the Republic of Lanikai," she knew she had something to worry about.

Eric Smith of Mokulua Fishing Club said they had entered the parade last year and got no respect. With an "Al Gore Running for the Big Kahuna" theme, he thought they might have a chance this year.

"We figured, whichever way the judges go today, we can get a recount," Smith said.

Adults, children, babies and dogs lined the route along Mokulua and Aalapapa drives. Neighbors chatted as they sipped coffee, glad to be up even if they didn't feel so bright, they said.

Dale Vincent, whose son and seven other members of the Kailua Intermediate School Band led the parade, compared it to the Rose Bowl Parade.

"There's a lot of community participation, music and a princess," Vincent said.

Anna Kobara, 8, visiting from San Diego, gave the parade an eight on a scale of one to 10.

Her brother Joey, 6, said he'll join next year with his grandparents, who live in Lanikai. Joey plans to attend as a vampire.