By Scott Ishikawa
Advertiser Capitol Bureau
Crews should begin work within two weeks to replace four bridges in Pahala on the Big Island that were heavily damaged by torrential rains in November.
Pratt Kinimaka of the state Department of Transportation's Highways Division said the emergency Pahala bridges project is scheduled for completion at the end of this year. The $30 million project will have federal emergency highway money covering 80 percent of the costs, with the state paying the remainder.
The bridges will be replaced one at a time to ensure commuters can continue to access Hawai'i Belt Road (Highway 11) to reach Hilo. The yet-to-be named contractor will first replace Keaiwa Bridge, which was washed out along with 200 feet of road by heavy rains, Kinimaka said.
After that bridge is completed, workers will begin work in late March or early April to replace Ka'ala'ala Bridge and Ford Crossing, followed by Pa'au'au Bridge.
"Work on each bridge, which would normally take two to three years under a regular work schedule, will be done in two to three months," Kinimaka said. During work on each bridge, crews will open up a detour road around the construction site, he said.
The Nov. 1-2 rains washed away portions of Highway 11 near Pahala, forcing residents commuting to Hilo to drive around the other end of the island. Hawai'i County officials managed to open a temporary road a week later.
Ron Furukawa, principal at Ka'u High and Pahala Elementary, said the repairs are being conducted in a manner least disruptive to the rural community. The schools were closed for a week after the rains because road damage prevented faculty living in Hilo from commuting to work.
"They're doing a really good job in being sensitive to keeping the highway open and providing easy access to the community," Furukawa said. "I thought the county and state did an excellent job in getting roads open. I guess because of its distance and location, it seems sometimes that services are a little slower."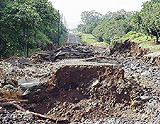 A section of Hawai'i Belt Road (Route 63) near Pahala on the Big Island was destroyed during last November's heavy rains. Four damaged bridges will be replaced one at a time to ensure highway access.

Department of Transportation photo

Kinimaka said the new causeways replacing the four original Pahala bridges, built sometime in the 1930s, will also meet current federal highway standards. The new two-lane bridges will be 40 feet wide, with two 9-foot-wide shoulders. The bridge railings will also be reinforced with steel to withstand crashes by vehicles going up to 55 mph.

In other flood news, state officials will also begin about $4.5 million in work to replace Kawaikapu Bridge on Moloka'i that was also damaged by November's flooding.

Another $400,000 project will stabilize portions of Hana Highway on Maui damaged by the heavy rains.

Repairs on flood-damaged Komohana Street in Hilo also began earlier this month. Hawaiian Dredging Construction Co., which was awarded the $4 million contract, hopes to have one lane reopened by late next month or early March. The entire project is scheduled for completion in June.

The federal government will reimburse Hawai'i County for the Komohana project.

Advertiser Neighbor Island Editor Christie Wilson and Big Island Bureau reporter Hugh Clark contributed to this report.