By Paula Rath
Advertiser Island Style Writer
Scooters were among the most popular gifts under the Christmas tree this year. So it stands to reason that an enterprising Hawai'i mind might find a solution to the storage problem a scooter can present.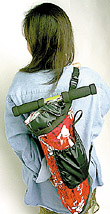 The $28 Scooter Sling is designed to hold your scooter, keys and water bottle for toting.

Bruce Asato • The Honolulu Advertiser

Enter fashion designer Joy Graham and Scooter Sling.

Graham thought of the sling last August. She wanted to create a bag that, when not holding a scooter, folded into itself to hang securely off the handlebars.

She found, through trial and error, a practical pouch.

Graham's design priorities included space for keys, a cell phone and a water bottle. A comfortable strap to go over the shoulder was also part of her ideal design. She experimented with a range of fabrics, straps and fastenings.

Once the pattern was finalized and a satisfactory sample prepared, Graham faced the issue of where to take the bags for sewing. She decided on Hawaii Correctional Industries at the Women's Community Correctional Center in Kailua. Under the leadership of Monica Gavin, a former fashion designer and retailer, the group sews projects for designers in Honolulu.

The bag is ideal for those who plan to ride TheBus, then use a scooter to their final destination. The customer service department at TheBus recommended to passengers who bring their scooters on board to keep them in a bag, so the scooters don't open up en route, inconveniencing other passengers.

The Scooter Sling retails for about $28 at Shirokiya, McCully Bicycle & Sporting Goods, and Bikefactory.