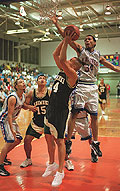 Kalaheo's D.C. Daniels is about to get a hand on a shot by Kaimuki's Daniel Swearingen during the first half of last nights game.
Gregory Yamamoto • The Honolulu Advertiser
Kalaheo tops Kaimuki in OIA opener
Skylar Wilson scored nine of his 20 points in the final 3:22 as Kalaheo held off Kaimuki, 58-50, in an O'ahu Interscholastic Association game at Kalaheo.

McKinley stops Kalani, 56-54
Edsley Hicks scored 14 points, including McKinley's final four, as the Tigers held off Kalani 56-54 in an O'ahu Interscholastic Association Eastern Division boys basketball opener at Kalani.

Miami makes case for national title
Playing for a possible share of the national title, the No. 2 Hurricanes defeated No. 7 Florida, 37-20, last night, with Ken Dorsey passing for 270 yards and fullback Najeh Davenport scoring two touchdowns.