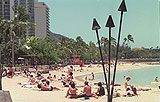 Fueled by increases in tourism, jobs and personal income, the state economy broke out of its doldrums last year and grew by 2.8 percent.
Advertiser library photo

State's economists optimistic
After a year of encouraging growth, Hawai'i's economy should continue to grow in 2001 at nearly the same pace, the state's economic research office said yesterday.

Click!
2001: A tech odyssey
Does technology make our lives better, or worse? Which answer you get depends partly on whom you ask and how the question is framed.

Coming Events