A well-stocked cocktail center can be simple

USA Today
Cocktails, anyone?
The infamous hour — or two — that nightly defined the traditional '50s has re-emerged as a way-cool diversion for the hip millennium. Fifty years later, the ever-suave cocktail hour is right at home with a plethora of age groups — from baby boomers and their parents to Generation Xers and their pals.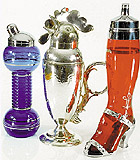 Fancy shakers, from left: blue glass dumbbell, circa 1936; silver plate rooster, circa 1928, and a ruby glass lady's leg, circa 1937.

Gannett News Service

"The cocktail, whether it's served at a certain time of day or at a specific party, is a metaphor for the American people," says master mixologist Dale DeGroff, a bartender for nearly 25 years,

a dozen at New York's famed Rainbow Room. "It's here to stay, and it's as much a part of America as baseball and jazz."

The twist this time around: in-home tasting parties, where you can sip several classics or appreciate the nuances of variations on a theme, such as five types of martinis or an all-scotch sampling.

Although the concept is similar to the wine-tasting party craze of a decade ago, it offers more than the opportunity to purchase a case of wine. Now, you can have your drinks and learn to make them, too.

That's the fun part, says DeGroff, who after much of his life behind the bar now works as a consultant to restaurateurs, training staffers and teaching mixology classes. He acknowledges the trepidation many folks feel when it comes to this rather inexact discipline.

How much soda with how much scotch? Does gin or vodka make the better martini? At in-home tastings, the star of the evening is the expert shaking, stirring and teaching.

DeGroff wants to untangle the process and the products. "The mystery and insecurity about mixing drinks is totally unfounded," says DeGroff, who owns an extensive collection of antique cocktail shakers. "Making drinks at home is not rocket science.

"If you don't want to try even a simple drink, then punches, for example, are a wonderful, easy thing to make. Or take a gin and tonic, add bitters, and you have a new drink. If you take a little extra time and be creative, it's quite easy, and you'll make better drinks."

The cocktail party or hour — defined as social activities or daily rituals organized around drinks made with distilled spirits — is really an exercise in nostalgia, both for a slower pace of life and for time set aside for conversation. Few dress for cocktails anymore, but if a man showed up in a smoking jacket or a woman in a little black dress, the gesture would be welcomed.

"It's about setting a tone, about expectation, and the ceremony leading up to it," says DeGroff, whose new cocktail recipe book (working title: "Gourmet Bar") will be published by Clarkson Potter next year.

Simpler life

Anticipation is a huge factor, says Judy Blatman of the Distilled Spirits Council, a national trade association headquartered in Washington, D.C. "People want to slow down, to take some time for themselves," she says. "There's a genuine desire now to revel in the process of making a drink."

Part of the appeal is America's renewed appreciation of simple pleasures. When people find themselves with downtime, many turn away from the competitive pursuits (working out and working late) that characterized the manic '80s and '90s.

So, we're looking back to the future and a nation of spirit-quaffing couch potatoes? Not exactly, bitters breath. Unlike the college experience, this is about discriminating, not indiscriminate, drinking. And it's done mostly at home.

"People are tired of going out," says Dave Glassman, marketing director for Restoration Hardware, which featured a stainless steel Arctic Bear cocktail shaker on its holiday catalog cover.

"When I think of cocktails in the '50s, I think of a stodgy time," admits Marc Gordonson, 29, of New York, who works in Internet advertising.

"That's definitely not what my friends and I share when we get together at home for a drink. It's just nice to be in your own environment, not in a smoky, noisy bar."

Tried-and-true

Gordonson characterizes his cocktail parties as casual-yet-sophisticated get-togethers for friends who "know what they like to drink and stick to it."

That's typical, says Blatman, who acknowledges that although spirit-tasting parties can introduce new trends and tastes, people tend to go back to what they know and like: rum and cola, vodka and tonic, bourbon and cola, the gin or vodka martini.

But regardless of drink preference, the sophisticated, knowledgeable consumer — willing to pay more for the premium spirits now available — stands at the center of this movement.

"The American palate has broadened considerably over the years," DeGroff says, remembering the '50s and '60s as rather bland. "Exciting changes in tastes started with food and wine, and then it moved to a fancier cocktail menu. The truth is that we never fully recovered from Prohibition."

In this politically correct world, how smart is it to admit your interpretation of PC might be "perfect cocktail" as you enjoy hard liquor?

Blatman says: "There is a misperception that there is a difference between beer and wine and spirits. It's all alcohol. At the council, we are of the mind that drinking is good only if it's done sensibly, and the person is mature enough to drink."

Rising spirits

Warnings notwithstanding, the numbers speak to the popularity of spirits.

In 1999, 22 new products were introduced — although that old sunrise standby, known as tequila, holds the top spot as the fastest-growing distilled spirit. In the past five years, retail sales of distilled spirits have grown by 11 percent. Between 1998 and 1999, sales volume increased by 3 percent.

Sales of barware — accouterments for the in-home bar include everything from cocktail napkins and retro glasses to shakers, jiggers, strainers and stirrers — also are up.