Full text of Harris inaugural speech


By Robbie Dingeman
Advertiser City Hall Writer
Honolulu Mayor Jeremy Harris officially began his last term as the city's boss with a speech strong on vision, light on specifics and wrapped in a colorful and diverse ceremony.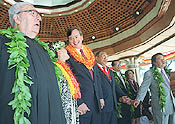 Harris smiles at his wife, Ramona. At left is U.S. District Judge Samuel King, who administered the oath of office. At far right is Gov. Ben Cayetano.

Bruce Asato • The Honolulu Advertiser

Harris held his inauguration yesterday at the new Kapi'olani Park bandstand, breaking with past practice of holding the ceremony at Honolulu Hale. Draped in the red and gold colors of Hawaiian royalty, the Victorian-style bandstand provided a picture-perfect backdrop for political festivities.

The photo-friendly setting and broad terms of the speech prompted many in the audience to comment that the ceremony would work as well for someone running for governor. Harris is considered likely to resign in 2002 to run as a strong contender in the gubernatorial race.

After the speech, Harris said that rising costs of public worker pay raises and benefits will probably force an increase in the property tax rates on O'ahu this year. "It's pretty simple arithmetic. We have a balanced budget now and pay raises and retirement benefits are going up by $58 million and revenues are only going to go up by $4 million."

In the speech, Harris said he wants to continue to do more to involve people in government decisions.

He said government must change how it operates and he hopes the Legislature will help by enabling government to hire private companies to do work now done by government employees.

"When the private sector can do a job better than government, we should let them," Harris said.

"Many people feel that government doesn't represent or respond to them but only to an elite group of insiders. The voice of the people must always speak louder than the whines or the whispers of special interest."

More than 1,000 people attended the midday ceremony, including business and community leaders, Gov. Ben Cayetano, retired U.S. Sen. Hiram Fong and most of the City Council members.

There were invocations by Christian and Buddhist ministers: Kahu Kaleo Patterson of Kaumakapili Church and Bishop Chikai Yosemori of Honpa Hongwanji.

The Royal Hawaiian Band provided music. Hawaiian organizations played a prominent role in the procession, among them the Royal Order of Kamehameha I, 'Ahahui Ka'ahumanu, Hale O Na Ali'i, Daughters of Hawai'i, and Daughters and Sons of Hawaiian Warriors.

Entertainment included Henry Kapono singing the "Star-Spangled Banner," Cathy Foy singing "Hawai'i Pono'i," and performances by the Makaha Sons and Halau Hula Olana.

Businesses donated $5,500 worth of catered food.

Harris said Hawai'i must quickly diversify the economy and not be overly dependent on tourism.

"If we're going to plug into the global economy, we've got to be a leader in high-tech." He said that doesn't necessarily position Hawai'i as a computer-manufacturing center but does set the stage for Hawai'i working as a link between Asia and the Mainland.

Most of the City Council members praised the speech as strong on style, though a bit shy on specifics. Councilman Gary Okino said Harris "could have maybe been a little more specific with his suggestions or proposals as to how he would deal with some of the problems that he brought up."

Councilman John Henry Felix said he thought it was appropriate for Harris to hold off details of his proposals until his State of the City address later this month.

"I think he set the groundwork for his gubernatorial campaign. He'll be a very formidable gubernatorial candidate," Felix said, characterizing Harris as articulate, intelligent and experienced.

The speech will be broadcast several times this week on Oceanic Cable Channel 54. City officials said it will be broadcast today at 6 p.m.; tomorrow at 3 p.m.; and Friday at 8:30 p.m.

Harris used the speech to spell out some of his accomplishments since 1994 when he took over as mayor when veteran Honolulu Mayor Frank Fasi stepped down to seek the governor's job.

He has been elected twice and cannot run for another term as mayor.

Harris said his administration has succeeded in creating a Honolulu that is "cleaner, greener and safer" where more people have good jobs, crime is down, the bus system is better and children have more parks to play in.

The mayor — a marine specialist by background — compared the task ahead to a basic scientific concept: "We must adapt and evolve in the changing environment or face extinction."