By William Cole
Advertiser Courts Writer
Honolulu Prosecutor Peter Carlisle, sworn in for a second term yesterday, said his office could take pride in reduced crime in Hawai'i, but that changes in the criminal justice system are needed.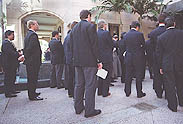 Staffers and guests look on in the Ali'i Place courtyard as Peter Carlisle is sworn in for a second term as Honolulu prosecutor.

Richard Ambo • The Honolulu Advertiser

With his wife and son, staff members and supporters looking on, Carlisle, 48, took the oath of office in the courtyard of Ali'i Place, and then did swearing in duties for 105 deputy prosecutors. Carlisle was not challenged in the primary election.

"I have learned one absolute and undeniable truth," he said, "and that is in politics it's always better to run unopposed."

Carlisle praised the many divisions within his staff, like the victim witness advocates "who go out there and make the life of victims easier," and said those who work with him represent the best parts of his job.

Among the worst parts, he said, was going into the Xerox Hawai'i warehouse after Byran Uyesugi gunned down seven co-workers on Nov. 2, 1999 in Hawai'i's worst mass murder.

Statistics point to drops in several areas of serious crimes from 1994 through 1999.

Carlisle said that during his next term he would like to see criminal justice system changes, including the way suspects are brought to trial.

The city prosecutor said he will pursue with the Legislature a process used in 12 other states that allows a judge to decide on probable cause for a trial without a hearing or indictment. This would save police and witnesses time and money, Carlisle said.

It would not increase the likelihood of someone charged with a crime being convicted, Carlisle said.