By Eloise Aguiar
Advertiser Windward Bureau
An 85-year-old Kane'ohe man killed yesterday when he was struck by a van near Star Market was a regular customer there who often stopped to purchase cat food and rice, store employees said.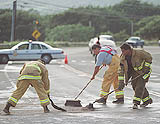 Firefighters spread absorbent material to clean up a section of Kalaniana'ole Highway, near Olomana Golf Links, where two autos collided early yesterday. One of the drivers, a 32-year-old woman, died in that accident.

Richard Ambo • The Honolulu Advertiser

They were shocked by his death and remembered him as the person who fed the birds at the bus stop nearby.

"He had a pleasant disposition, a likable guy," said John West, Star assistant manager. "He was quiet and mild-mannered."

The man was one of two Windward residents killed in traffic accidents yesterday. They were the second and third people to have lost their lives on O'ahu streets so far this year.

A 32-year-old woman was killed in Waimanalo, near Olomana Golf Links on Kalaniana'ole Highway, when her vehicle was struck head-on, said police Sgt. William Watkins.

The woman was Kailua-bound at about 5:25 a.m. when a Chrysler driven by a 19-year-old man crossed the center line and struck her Honda Civic, Watkins said. The woman, a Waimanalo resident, was pronounced dead at the scene.

Neither driver was wearing a seat belt. Watkins said alcohol may have been a factor with the 19-year-old driver of the Chrysler.

The Chrysler's driver was taken to Castle Medical Center in critical condition, Watkins said.

A total of 66 people were killed in traffic accidents on O'ahu last year. Of those, at least 24 were pedestrians.

The 85-year-old Kane'ohe man became O'ahu's first pedestrian fatality of 2001 when he was hit by the van as he crossed Kamehameha Highway. He was in or near a crosswalk that does not have a traffic signal. There are signaled crosswalks half a block away on either side.

It's a dangerous area, residents said, with heavy traffic compounded by an entrance to and exit from Star Market on one side of the street and the post office on the other.

The man was struck about 6 a.m. when it was still dark and before traffic yet reached its morning peak. He was crossing four lanes of traffic, from the mauka side of the road heading toward Star, police said.

A brown Chevrolet van was slowing in the last lane, apparently to make the right turn into the Star lot, when it struck the man, police said.

The 40-year-old driver said he didn't see the man until the impact and couldn't recall if the pedestrian was in the crosswalk, police said.

The pedestrian was taken to the Queen's Medical Center, where he died.

Windward residents waiting at the bus stop yesterday said the accident site is dangerous and a difficult place to cross during heavy traffic, despite the crosswalk. Winona Logan, 75, said she never uses the crosswalk even though it would save time and shorten the distance.

"I go where the lights are; I don't trust this," Logan said.

Jane Livingston, from Kahalu'u, said the state should install a walk signal there.

Meanwhile, the city medical examiner's office identified Kwang Yul Yoon of Kapolei as the man found dead about 2:20 p.m. Monday in an overturned car in Waipahu. He was listed as O'ahu's first traffic fatality of the year.

Yoon, 45, died sometime overnight when the Toyota 4-Runner he was driving veered off old Farrington Highway and rolled over into a ditch near Kahi Mohala Hospital.