By Kyle Sakamoto
Advertiser Staff Writer
Kalaheo needed a lift late in its game against Kaimuki last night. Senior point guard Skyler Wilson was there to provide it.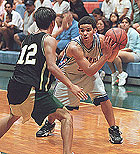 Kalaheo's Skyler Wilson goes up against Kaimuki's Brendon Hayashida during last night's game.

Gregory Yamamoto • The Honolulu Advertiser

Wilson scored nine of his 20 points in the final 3:22 as Kalaheo held off Kaimuki, 58-50, in an O'ahu Interscholastic Association game at Kalaheo.

"That's what you need a point guard to do," Kalaheo coach Pete Smith said. "You need a team leader. Sky did that tonight. We needed it because we were struggling. We didn't shoot the ball very well, we missed a bunch of layups and didn't convert free throws at the end."

Kalaheo junior center Ikaika Alama Francis scored 14 of his 20 points in the first half.

"Kalaheo always produces outstanding players," Kaimuki coach Stephen Lee said. "Ikaika and the point guard (Wilson) are great."

Kalaheo went on a 17-4 run in the final five minutes of the first quarter to take a 21-8 lead. The Mustangs used a full-court press to force seven turnovers in the quarter. Against a 1-1-3 zone, the 6-foot-6 Alama Francis scored nine points in the quarter.

"Ikaika has been steady," Smith said. "He's a staying force inside for us."

Kaimuki got back into the game in the first 2:35 of the second quarter after Kila Kamakawiwo'ole and Jesse Wong each hit two 3-pointers. A layup by Junior Maiava cut Kaimuki's deficit to 24-22 with 5:07 left in the half. Wilson sat out the final 2:18 of the half after picking up his third foul.

"I thought we had good tempo in the first quarter," Smith said. "In the second quarter, we didn't rotate very well and they hit the four 3s. It changed the momentum of the game."

Kaimuki closed the lead to one point twice in the second half, including 43-42 three minutes into the fourth quarter, but Kalaheo went on a 15-8 run to end it.

The Mustangs, who have won eight of the last 10 OIA titles, forced six turnovers in the fourth quarter with their full-court press.

"It's frustrating because we had opportunities," Lee said. "We had too many turnovers. In the end champions usually come through."